4/5/2011 HDR Workflow with GH2 + 7-14mm Zoom
At first we were critical about the HDR workflow with the GH2. Now we are quite impressed.
---
3/24/2011 DPReview posted its GH2 review (with contributions on video by us)
---
1/19/2011 Machine Dance Slow Motion Test
The original video was slowed down to 10% by using the Twixtor plugin for Final Cut 7.
---
1/4/2011 Short Video: Machine Dance
---
12/21/2010 Handheld HDR
For handheld HDR faster frame rates are better. Like some of our readers we think the GH2 does not make use of the full 5 fps it can do. By the way it would be ok for the camera to only focus for the first shot because changing focus in HDR often does not make much sense anyway.
Note: We added a request for improved fps in AEB mode to our wish list.
Here is one HDR photo we did today: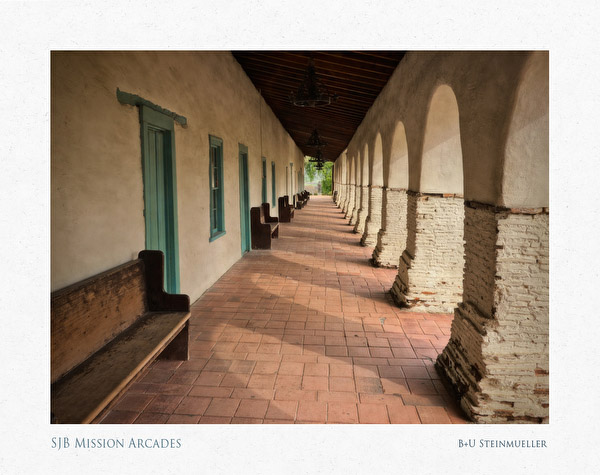 We used our free alignment script for CS5. We then merged to HDR and tone-mapped in HDR Express.
---
12/20/2010 In the Vintage Car Shop
If you follow our site you know that we also like to photograph old cars and machinery. Today we were in a Vintage Car Shop of our friend Romero. We used the 45mm f/2.8 Macro wide open at ISO 1600 and 3200.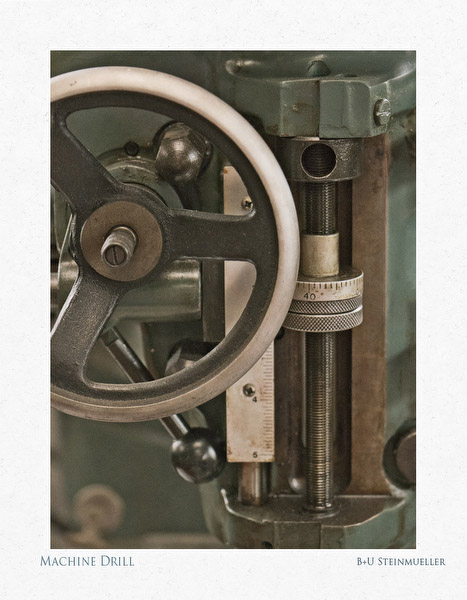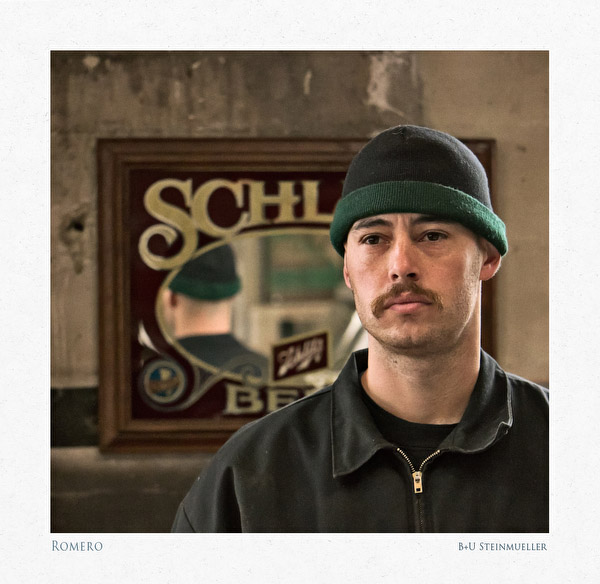 Overall we got some nice new photos and are not afraid to use the GH2 at such high ISO settings. We did only some mild noise removal using Lightroom. The grain you see in the images are actually added using our Texture Blending.
You can find some more samples in our GH2 Sample Gallery.
---
12/19/2010 New Video
---
Disclosure: The GH2 we review here is our own bought camera.
12/18/2010 Getting Started
The GH1 Legacy
Panasonic's GH1 was clearly the best integrated stills and video camera. No cameras with a mirror and optical viewfinder can create such a good integration of stills and video camera.
Essential features for a hybrid Stllls and video camera:
Swivel LCD
AF during videos
EVF that shows identical video image
Full manual exposure control for video
1080p24
Good quality encoder
The Micro 4/3 lens system also allowed the design of much smaller lenses (more on Lenses later). The m4/3 sensor is quite a bit smaller than full frame 35mm stills sensors (e.g. Canon 5D Mark II) but is also not much smaller than 35 cine frames (about 50% in size of 35mm stills frames).
---
The GH1 Shortcomings
As much as we liked the overall concept and performance of the GH1 there were some significant shortcomings to make this camera a top performer (both for stills and video). We plan to look how the GH2 addresses these issues.
No great low light (high ISO) performance (video and stills)
Here the GH1 lags behind the sensors from Sony (also in many non Sony cameras) and Canon. Often ISO 800 was already a stretch.
Competition offers more resolution
The 12MP of the GH1 is not really bad but the competition offers 14-18MP and that at even lower noise.
"Mud" is the lack of detail that is lost in areas where there is low contrast detail. The bit rate of 17 mbs (Mega Bits per second) of the GH1 was too limiting. This was for us a show stopper for landscape movies. There is a firmware hack for the GH1 called GH13 that performed much better by increasing the bit rate (for more GH13 info start here).
The Gh1 recorded 24p but in a 60i wrapper. This added extra work and confusion to the video workflow. This limit was also removed by the GH13. The GH13 could record at native 24p . We converted our GH1 to a GH13 but you need to know that this is at your own risk and it can void the GH1 warranty.
Slow frame rate for stills (about 3fps)
This slow frame rate makes freehand HDR photos more difficult.
Limited EV spacing for HDR photos (max 2/3 EV steps)
We found this limit also to be silly.

---
Micro 4/3 and Image stabilization
Unfortunately Olympus and Panasonic implement different ways to stabilize the images:
Olympus: In body image stabilization (means Olympus lenses don't stabilize on Panasonic bodies)
Panasonic: In lens image stabilization. Lenses stabilize on both systems
Consequence: We like some Olympus 4/3 (not micro) zooms a lot but they don't stabilize on the GH1/GH2.
---
The State of Micro 4/3 lenses
In the beginning m4/3 lenses were very limited. Today the situation has improved but is still not ideal.
Manual focus lenses
If you are using manual focus the GH1/GH2 allow you to use nearly all existing lenses on the market via adapters.
Our m4/3 lenses and how they play for us
Panasonic 7-14mm f/4 (no OIS. angle of view 14-28mm in terms of 35mm full frame): Very good for such an extreme wide range. Not cheap but compares well to the alternatives.
Panasonic 20mm f/1.7 pancake (no OIS, angle of view 40mm in terms of 35mm full frame): Very nice focal, fast and quite good. Hard to beat for the price.
Panasonic 14-140mm f/4-5.8 (with OIS, angle of view 28-280mm in terms of 35mm full frame): A great outdoor zoom. Decent optics but slow. Nice to use for video in good light.
Panasonic 45-200mm f/4-5.6 (with OIS, angle of view 90-400mm in terms of 35mm full frame): Ok optics and amazing range for this small lens.
Panasonic-Leica 45mm f/2.8 Macro (with OIS, angle of view 90mm in terms of 35mm full frame): Good lens but also expensive. Hard to say how effective the OIS is on this lens because on close objects all camera movements get amplified. AF can be slow in some scenes.
Panasonic 14-42mm f/3.5-5.6 (with OIS, angle of view 28-84mm in terms of 35mm full frame): Kit lens and not bad for a kit lens.
Panasonic 100-300mm f/4.0-5.6 (with OIS, angle of view 200-600mm in terms of 35mm full frame): Amazing range in a small package. Will check it out when we receive ours.
Olympus 4/3 via adapter 14-54mm f/2.8-3.5 (no OIS, angle of view 28-108 mm in terms of 35mm full frame): This is the lens we use for indoor videos. The Olympus 4/3 12-60mm maybe even better but is also bigger, heavier and costs more.
Micro 4/3 lenses we miss big time
12-60mm f/2.8-4 with OIS
25-100mm f/4 with OIS
Too bad that Olympus does not make lenses for OIS.
---
First Look at the GH2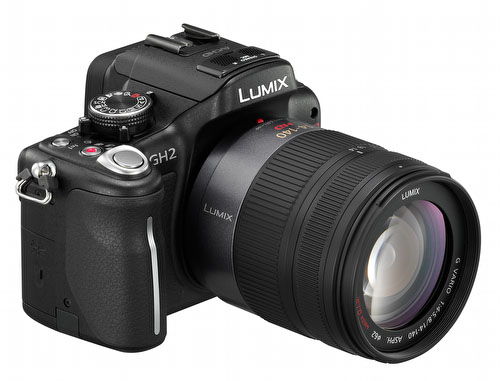 It looks like that the GH2 nearly addresses all of our main concerns with the GH1. Over the course of this diary we hope to check them out. Here is a first overview.
Low light (high ISO) performance (video and stills)
We need to check much more. But there are indications that this has really improved.
Competition offers more resolution
The GH2 features now 16MP and is up to the competition.
The bit rate got improved to 24 mbs. More important seems that Panasonic improved the encoder and supports B-Frames for their AVCHD codec. In first video tests the pictures look quite good. We have to check for "mud" in our next videos.
The GH2 can now record 1080p24p natively. Very nice.
Slow frame rate for stills
5fps is now quite a bit faster. Unfortunately the frame rate is mot improved for AEB.
EV spacing for HDR photos
The GH2 allows now 1EV steps. This is not great but quite an improvement.
---
GH2 Extra Features
We did not expect much from this new feature (inherited from the G2). But we were wrong. The touch screen is a great tool to set the focus point. Now we love it :-).
Get more reach for video via using just a 1080p crop of the sensor without losing quality. How can this work? 1080 HD video has only a resolution of about 2MP. Normally the full 16MP (actually 18) sensor is used to capture just these 2MP. How this is done is a secret of the manufacturers but they all use some binning or line-skipping techniques. In ETC mode just the center 2MP are used. This allows a more narrow angle of view by a factor 2.6. Obviously we plan to test this feature. Holds a lot of promises.
---
Our first Still Photos
The weather is quite bad right now and we got only very few test photos (Taken with the 14-140mm zoom and mildly Texture Blended).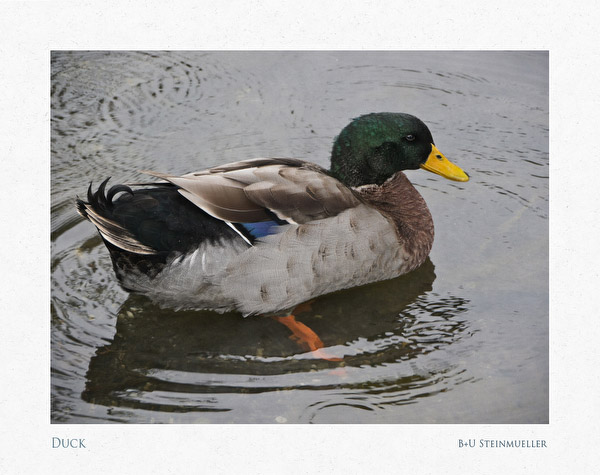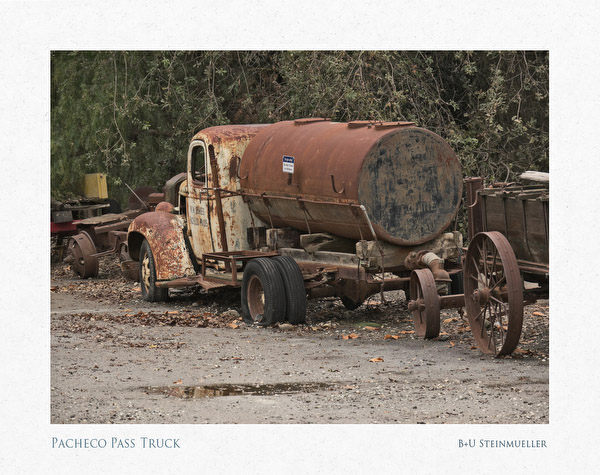 ---
Our first Video
Note: We host all our videos at Vimeo. Vimeo is the premiere service for all sorts of movie makers.
---
GH2 wish list
Use max fps also for AEB bracketing
Swivel EVF
Larger EVF image
Higher refresh rate for EVF
ND filter or equivalent for video
Wireless remote
Time Lapse support
SloMo at 1080p60p
Different ports for remote and mic
---
First Conclusion
We are quite excited about the GH2 and hope it holds up in our real work. Quite impressive how Panasonic addressed most of the concerns against the GH1. They clearly listened to their customers.
The missing lenses we mentioned are some weak point right now (mainly for stills we think).