4/28/2008 Gallery #2 posted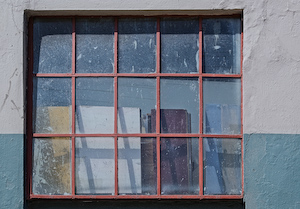 The second portfolio is from the SF Mission district. This is where we have our San Francisco workshops (amazingly diverse area).
Canon Rebel XSi/450D Gallery #2
---
4/7/2008 First Shooting Experience and Gallery
Our first trip using the XSi/450D was a daytrip at Hwy 1 (North of Santa Cruz). All shots were bracketed (learn why) and we liked the handling of the camera. Not much to complain about, except that we like faster frame rates.
We took close to 350 photos (remember in bracketing mode each shot are 3 exposures, so we captured about 115 different compositions) and the battery wasstill going strong. We still recommend to keep a spare battery in your bag.
We only used so far our Canon 24-105mm f/4 IS and 70-200mm f/4 IS lenses. These are good zooms but are often out of the reach of photographers that will buy the XSi/450D. In a later note we plan to talk a bit about other lens choices.
Note: We only care about features that we use and this may of course differ from your demands. We comment on missing features if these features are in the way of our style of photography. With the XSi/450D so far not much is in our way.
Here is the gallery from this one short trip: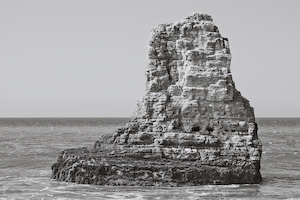 Canon XSi/450D Gallery #1
---
3/30/2008 Diary Start
The Canon Rebel XTi/400D is a very capable camera and now we got the new Rebel XSi/450D.
There are a lot of new features packed into this camera:
12MP: This is the least exciting improvement. We do not favor the Megapixel war, dictated by marketing. But on the other side this camera seems to show that Canon can get more pixels while keeping image quality (see later).
Live View: This is so far the most complete Live View implementation in any Canon camera. We won't want to miss this new Live View.

It makes focusing in Live View possible. We actually use the Quick Mode: the camera flips the mirror down and uses the usual AF camera mode. The second method does not require the mirror to flip down and uses the same contrast method implemented in digicams. This unfortunately is quite slow.
Live view features a full color channel histogram to tune exposure

3" LCD
Improved larger Viewfinder view
Highlight Priority Mode
14-bit RAW files
First Canon DSLR that uses only SD-Cards (we use 8 or 16 GB Kingston cards). The Canon 1D* DSLRs use SD-Cards in second backup slot.
Los Gatos test shots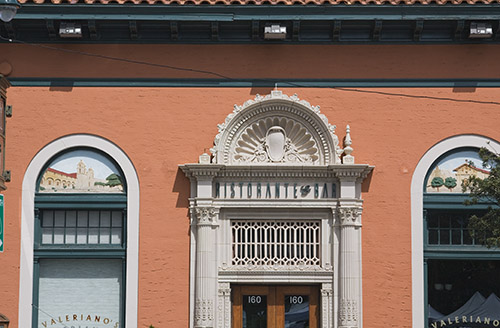 Ristorante @ISO 100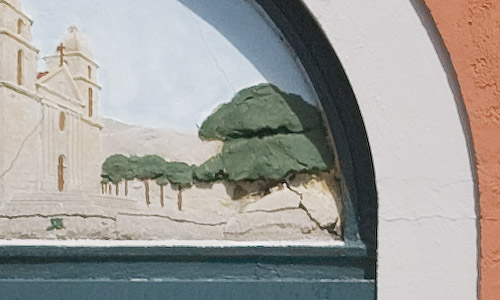 Crop @100% magnification
We used for this test our 24-105mm f/4 IS zoom. Shows excellent detail. Seems this camera delivers features as well as image quality.
You can download the original RAW from here (about 15MB).
Note: Remember that the service we provide is financed by selling our ebooks and PS tools. Also direct donations are welcome.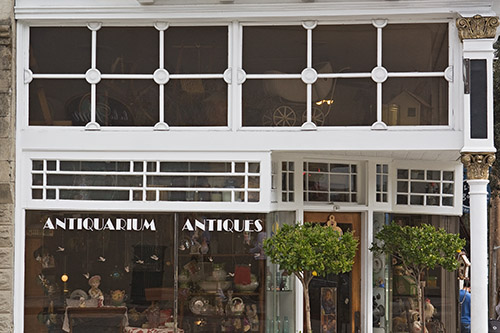 Antique store @ ISO 400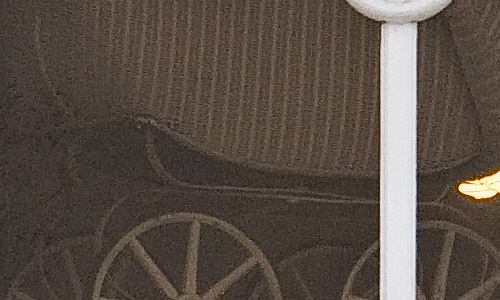 @ 100% magnification
Good and usable shot for ISO 400 (our Detail Extractor brings even out the grain some more).
ISO Test
We converted with ACR 4.4 (luminance noise removal set to zero) and then sharpened with the same level in Detail Extractor 2.0 and some low EasyS Plus settings.
Note: Detail Extractor shows both more detail and more grain. This way we can see how much real detail is available.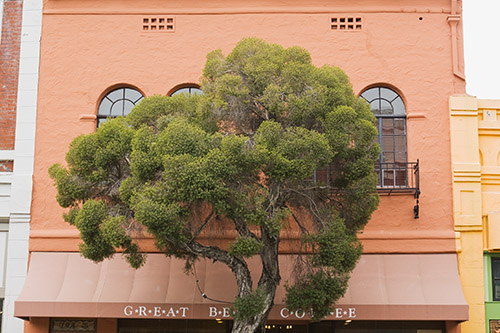 Bear Coffee Shop
Canon Rebel XSi/450D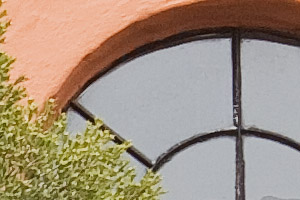 ISO 100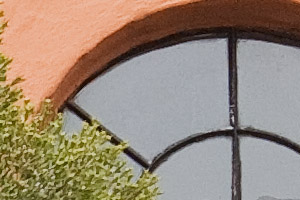 ISO 200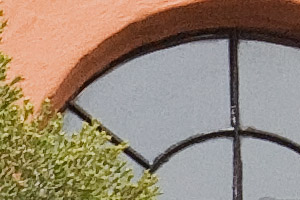 ISO 400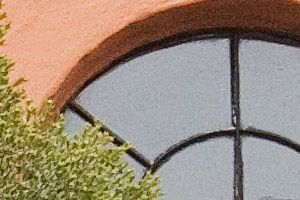 ISO 800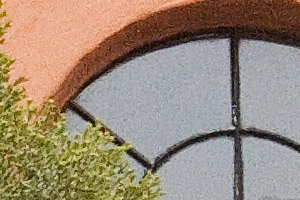 ISO 1600
All these shots are with luminance noise removal off in camera (as much as the user can control this) and raw converter (color noise removal was at default). ISO 100-200 very smooth with hardly any noise. ISO 400 is very good too. ISO 800 shows a bit more noise but still excellent. Even ISO 1600 it looks like most digicams at ISO 100-200. With this excellent noise behavior we wonder why Canon left ISO 3200 out.
Overall we are very pleased by these results from the Canon Rebel XSi/450D.
Note: Because we use now also the DOP Detail Extractor (at moderate levels) noise actually would is even more visible than in the past.
With most cameras today we feel that ISO 100-400 defines our comfort zone. This means we use this range without any further thought. We have the feeling that with the Canon Rebel XSi/450D we can risk ISO 800 or 1600 more often than not.
Note about high ISO noise: Many people ask why they should worry about noise at ISO 800 or more if they only use 400 ISO at max. This is of course a good question. In the past we did not care either. Then we changed our photographic style and make now often use of Tonemapping (learn more about HDR and Tonemapping). During this process we brighten the shadows and this brings out the noise otherwise seen at way higher ISO. It often starts to matter at even ISO 200 photos.
Note about frame rate: We hardly photograph action and still we find the high frame rate very important. Why? We shoot high speed exposure brackets freehand. Please read this article for our motivation behind high speed brackets. We find that the Canon Rebel XSi/450D at about 3.5 fps is a bit on the slow side but should still work for our new technique just fine (we will test this some more with our first real photo sessions).
First conclusions
Excellent high ISO noise behavior
Live View is very well implemented
Viewfinder is much improved over the Rebel XTi/400D.
Canon Rebel XSi/450D has full support for AEB (Auto Exposure Bracketing)
Excellent value for the money
Our wishlist
Have a secondary dial
ISO 3200 setting
ISO in 1/3 increments
Swivel LCD