When we got the Rebel (300D) we wrote a little essay and think it is even more true than ever. These cameras are really good and the photographer is the main limiting factor. Yes there are better and more expensive cameras but in most cases the reason that you got a good photo is not related to the fact you used better equipment. Most importantly the image quality of these small cameras challenge the way more expensive DSLRs. Better you save on the camera than on good lenses.
The main criteria are probably size/weight and cost. Here you have to find out what you want to do. A camera that stays always home because you find it too big is not of great help. We will probably use the XTi as our travel snapshot camera. This is not meant negative at all as we think you can create very good work using the Rebel XTi.
We repeat some notes from our Rebel XT/350D review because they are still or even more true today.
Rebel XTi and lenses
We cannot stress enough how important a good lens is. We have never found a lens that was too good but many lenses are not really that good.
Unlike Nikon, Canon has not standardized on a single multiplier for its digital cameras. This means the high end is defined by film compatible lenses for the 1D Mk. II (1.3x) and the 1Ds Mk. (1.0x). This is not a real incentive for Canon to build excellent smaller lenses at a good price for the 1.6x multiplier cameras. Yes, there are a few lenses out but we would like to see more of them.
We had published an overview of all the Canon lenses we own. Some of them would be a fine match with the XTi:
50mm Macro (80mm equivalent on the XT)
50mm f/1.4 or f/1.8
17-85 IS (nice travel lens)
17-40mm (medium wide angle to normal)
70-200mm f/4 not cheap but good value (the IS version is just out but quite a bit more expensive)
10-22mm if you want to go wide (not cheap though)
check also some 3rd party lenses
First impressions (random order)
We miss a second dial for aperture if we work in manual mode (90% of the time actually)
Instant review is fast as will all the latest Canon and Nikon DSLRs
Shutter lag no problem (we don't measure it though)
The XTi features mirror lockup (the Nikon D80 does not)
Viewfinder image size smaller than Nikon D80 (we have no real trouble though)
Still not all four histograms (RGB and Luminance) available at the same time
Mirror lockup still buried in some nested menu item
Canon added a bright 2.5" LCD and removed the second info panel from top of the camera. Actually we like this much better than before. Why? Have you ever had your camera on a tall tripod and tried to change settings that required to watch to top panel? All information is available on the large LCD: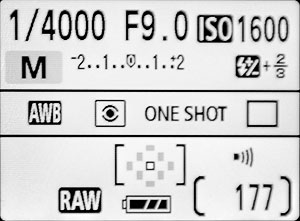 Info on LCD
Even the AF points can now be selected on the LCD: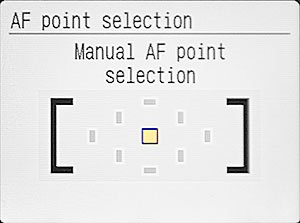 AF point selection on LCD
Overall we find the new LCD and the menu handling quite an improvement compared to all previous Canon DSLRs.
Some Los Gatos test shots
Since over 6 1/2 years we only use RAW for all our cameras if feasible and all Canon and Nikon cameras work great in RAW (well compressed files, fast write speed).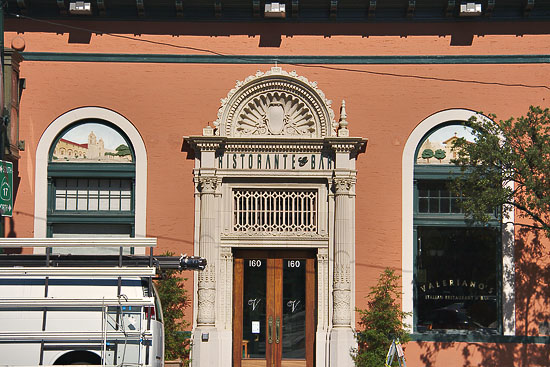 Ristorante @ISO 100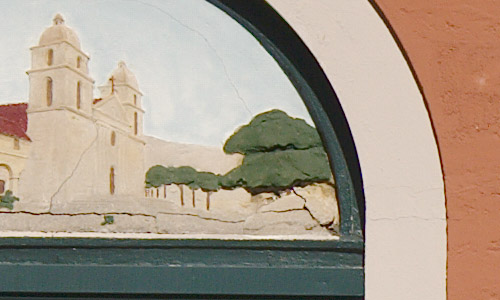 Crop @100% magnification
We used for this test the Canon 24-70mm f/2.8 zoom (top but also heavy and expensive lens). We think the camera performs very well in terms of resolution and colors (here actually processed with LightZone).
You can download the original RAW NEF file from here (9MB).
Note: Remember that the service we provide is financed by selling our e-books and PS tools.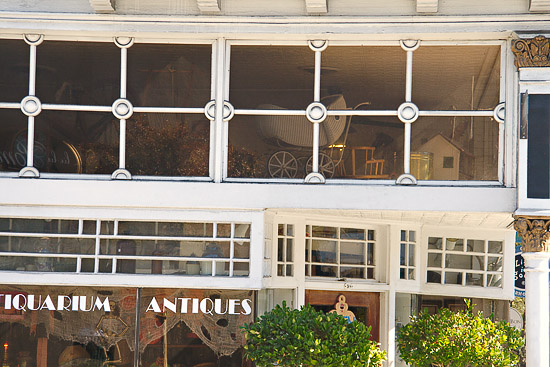 Antique store @ ISO 400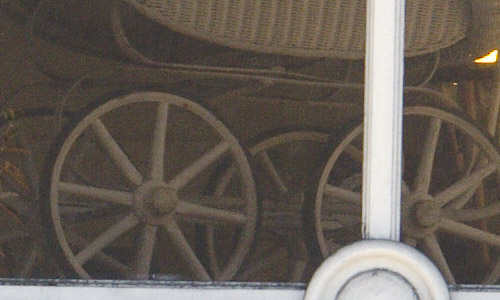 @ 100% magnification
Shadow noise at ISO 400 is excellent (we used the Canon 17-85mm IS here).
If you remove some noise with LightZone 2.0 beta the image looks like this: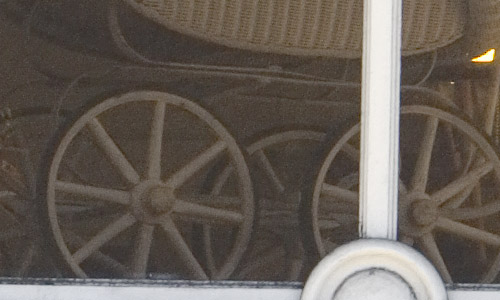 Noise removal in LightZone 2.0
ISO Test
We converted with LightZone 2.0 (no noise removal at all).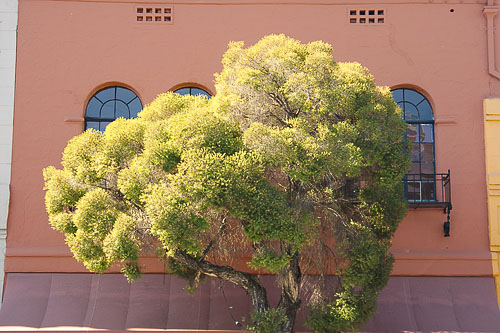 Bear Coffee Shop
Canon Rebel XTi (400D)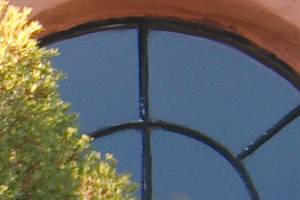 ISO 100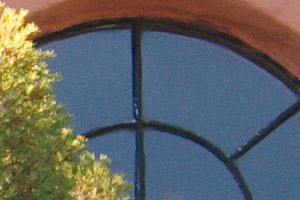 ISO 200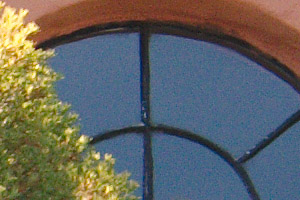 ISO 400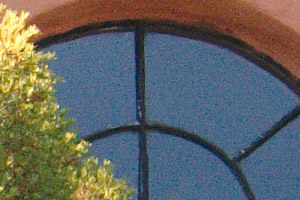 ISO 800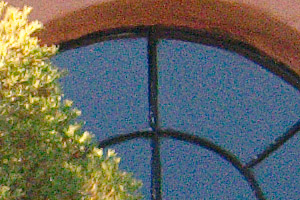 ISO 1600
Up to ISO 200 very low noise. The minor color noise at ISO 400 is very easy to remove (many RAW converters do this by default, LightZone allows full user control). At ISO 800 very acceptable (some more color noise than at ISO 400) and even ISO 1600 can create nice images.
Here is the ISO 1600 sample processed with the standard LightZone 2.0 noise tool. LightZone removes noise with very little damage to fine detail: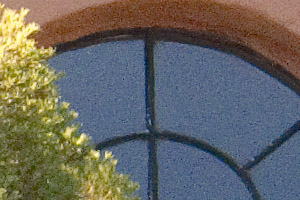 ISO 1600 processed in LightZone 2.0
Note: Don't forget is that you see a 100% pixel view of an image taken with a 10MP camera. Noise will only be an issue if you print at larger sizes. Also the noise of the Rebel XTi/400D feels more like grain. These cameras made huge progress over the last years.
First conclusion
The Canon 400D is a very fine camera and will likely serve us as a great travel camera in the future. We hope to get soon the new Canon 70-200 f/4 IS zoom. Combined with the Rebel XTi/400D this could be a killer combination.
Overall we feel this is more than just a minor update from the Canon EOD Rebel XT/350D. This has to be proven over the next weeks in the field.
---
10/21/2006 Note on the new Dust Removal features of the Rebel XTi/400D
The new Rebel XTi/400D tries to fight dust on many levels:
Antistatic coating inside
Dust shake-off (automatically or manually)
Capturing "Dust Delete Data"
The first two feature don't really need your attention. To capture "Dust Delete Data" you follow the instructions in the manual. Once you captured these data they are appended to every single image (Canon claims that the data size is very small). Later an external RAW converter can make use of these data to help removing dust spots. Because the structure of these data is not disclosed by Canon only Canon's new DPP 2.2 can use them right now. We could envision that other RAW converters may follow in the future.
First Test failed
We wanted to test this feature in DPP. So we captured some "Dust Delete Data" and tried to use them in DPP.
1. DPP did not show any sign that these data are present
2. This means I could not use them
We called Canon and it seems that because my sensor is pretty clean there may not be any relevant data to be used. We think DPP should be improved in the following ways:
Indicate that the "Dust Delete Data" are present with a file
Show a warning dialog or message that there are not enough useful dust data available.
We wait for the next time we get some nasty dust. Or better we hope it may never happen because the other measures work
---
10/27/2006 Canon Rebel XTi/400D Gallery
For two days we photographed at Pismo Beach and Oceano with the Canon 1Ds Mk. II and the Rebel XTi/400D. We used only the following lenses on the Rebel XTi/400D:
Canon 70-200mm f/4 L (not the IS version which we just ordered)
Here a sample shot with this lens (from tripod with mirror lockup):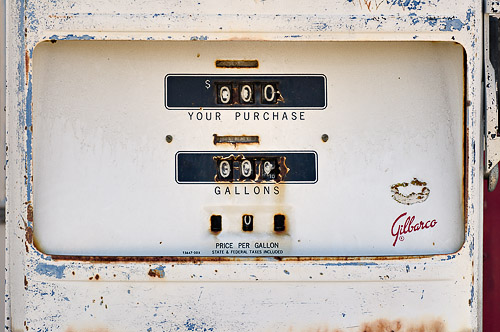 Old Gas Pump (Canon 70-200mm f/4 L non IS)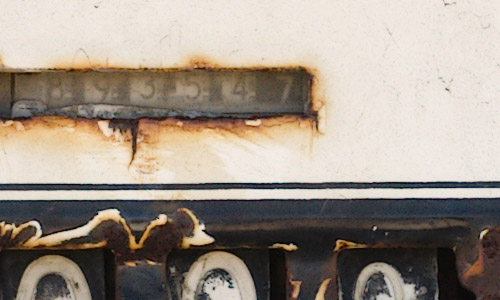 Crop at 100% magnification
During this trip we found that the Rebel XTi is a very serious camera if paired with good lenses. The 400D may even become our main "travel light" camera. You may ask why not the Nikon D80 (which we own too)? While the D80 is really an excellent camera (especially the viewfinder it clearly better than the one on the 400D) we prefer some special lenses from Canon as our "light travel" set:
Canon 70-200mm f/4 L IS (review soon)
Canon 24-105mm f/4 IS
We own the Nikon 70-200 f/2.8 VR as well as the Canon equivalent 70-200 f/2.8 L IS. Both are exceptional zooms for this focal length range but are also not well balanced with smaller cameras like the Rebel XTi or D80 (we even find them now too havy for our larger cameras - Canon 1Ds Mk. II and Nikon D2x -and hardly ever use them at f/2.8). So far Nikon does not have top class zooms that are top class f/4 lenses. We rather cut camera features than use lower quality lenses.
Read about our
Here is a small gallery from our trip.
Overall we found the new menu system and the 2.5" LCD on the Rebel XTi much better to use than with other Canon DSLRs in the past (histogram could still be larger though).
---
11/20/2006 Canon Rebel XTi/400D in Zion
We used the Rebel XTi on our trip to our Summit 2006 in the Zion National Park. Some of these pictures have been added to the Rebel XTi/400D gallery. Most of the images were taken with the new Canon 70-200mm f/4 IS lens (we just like this focal range and for handheld photography IS is essential). The Rebel XTi with this lens has the reach of a 112-320mm zoom (compared to standard 35mm). We liked this combination so much (light, yet quite powerful) that we have a Rebel XTi on order and will use it as our travel lite kit.
So far we did not encounter any dust spots on the XTi.