Note: We will present 3 seminars at Photokina (dpunkt Verlag)
---
Photokina 2006 Outline (we only mention products we try to feature)
Digital Cameras (High end)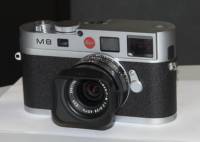 Leica M8
There is a "discrete charme" about the Leica M8. We hardly can wait to receive a review sample.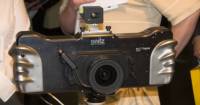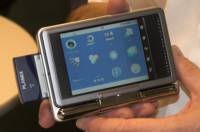 Wireless control unit
This camera uses a TDI scanning back to capture 160MP in up to one second. We have to follow this new potentially very exciting technology.
Digital SLR's (entry level)
Canon 400D (10MP) we hope to have a sample before Photokina

Nikon D80 (10MP)

read our review
Printers
Epson Stylus Pro 3800 Printer (DOP Photokina highlight)


• Epson Stylus Pro 3800

Highlights:

17" printer at $1,295 (breakthrough price for a 17" printer)
K3 inkset
Professional quality printer (unlike the Epson R2400)
Same 8-ink head as 4800, 7800, 9800
9x 80ml pressurized cartridges (means all inks are permanent inside the printer), List price per cartridge about $60
Auto-switch between matte and photo black

Cost to switch inks: between 2-4 ml (based on Epson data). Big improvement over the 4800 cost to switch inks. You still have to batch your glossy and matte prints to avoid too much ink waste which is not really optimal.
Time needed to switch inks: 2-3 minutes (based on Epson data)

Epson claims new improved screening algorithms with enhanced image smoothness compared to 4800/7800/9800 (we will try to test this printer as soon as we get a sample from Epson). Considering that the current image quality from the 4800 is already very good this maybe setting new standards for inkjet printers below $5,000 (we will check especially the B&W performance)
Smaller size and weight (big point as it may allow many users now to fit a 17" printer into their home office/studio)
No roll feeder option
Epson plans to make some of it's papers also availble at 17x22"
Note: Some users judge printers just by specs. Case in point: they think that 12 inks have to be better than 8 inks in all cases. To make this comparison you have to check the gamut of the actual printers and then also match it to your needs. In many cases one printer shows wider gamut in one color range and smaller gamut in a different color range. Also remember that color gamut is only one quality factor for a printer. For quite a few users today especially the B&W performance is high on their list. Here the K3 inks were a big step forward.
---

HP Designjet Z2100/3100 Large Format Printers (DOP Photokina Highlight)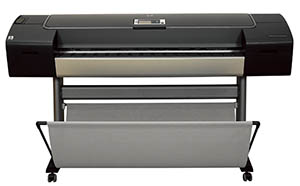 HP Z2100/3100 Printers
Highlights:
Pigment ink based printers (with high longevity ratings by Wilhelm)
Z2100 24" or 44" 8 ink printers (inkset like the 9180). Available in October 2006.
Z3100 24" or 44" 12 ink printers (the 12th "ink" is a gloss optimizer ink). Available likely December 2006
Built-in EyeOne spectrophotometer (a first at least in this class of printers)
Extended HP paper portfolio
Heavy duty production quality printers (HP has a good reputation building solid pro printers, e.g. the HP 5000 line)
Notes on the built-in X-Rite (former GretagMacbeth) EyeOne spectrophotometer
Printer can profile all used media itself (profiles can reside in the printer and also be downloaded to the client machines)
Profiling software (HP's profiling software) is closely matched to the printers and the inkset. Machine aided patch reading can be more precise than manual strip reading (*)
The automatic printer generated profiling target work efficiently with single sheet and roll media (avoiding paper waste)
Convenient
No extra cost for 3rd party devices and profiling software
No profiling skills to learn
EyeOne adds to the printer cost (hard to say how much)
(*) Did you know that a darker patch should be read longer to get more precision (less photons collected which could otherwise increase signal to noise ratio). This is hard to do with manual strip readers.
Image Quality?
We hope to get a 12 ink version later this year. Although we have printed on pre production printers we will save any comments on image quality for the time after we have the printer in our own hands.
Open questions
When is HP adding a 17" printer inbetween the 9180 and the Z2100/3100 24" models (will there be a 12 ink version of a 17" printer)
At the other end of the spectrum some may wait for a 60" printer (Canon has already 60" models of their new 12 ink printers)
Of course final judgements on image quality is open at this point in time
---

Canon with new 44" imagePROGRAF iPF8000
We assume this printer (press release) is based on the same 12 ink head technology as the IPF5000 (read our review here).
Software
Apple Aperture 1.5

Apple Aperture 1.5 seems to be a major upgrade:

Supports file references (even off-line references). Not having this option was our number one complaint. We will check how it works once we get 1.5
Export to XMP side-car files to integrate with Bridge and Photoshop
Export plugin API to support export to external services (e.g. stock agencies, web gallery services, ...)
Improved loupe, sharpening and selective color corrections
Integration with iPhoto, iDVD, Keynote, ...)
Available this week
Free upgrade for all current Aperture owners
More details once we have it installed

We consider this a very serious update where Apple listened to some major complaints. We plan to check out Aperture 1.5 in more detail. Apple seems to be clearly commited to Aperture.

---
Color Management
The new portfolio is mainly based on the former products from GretagMacbeth with the core EyeOne devices.