What about noise? We used RawShooter Essential 1.1.3 with no extra noise removal. We shot once again the Los Gatos Bear Cafe at different ISO levels: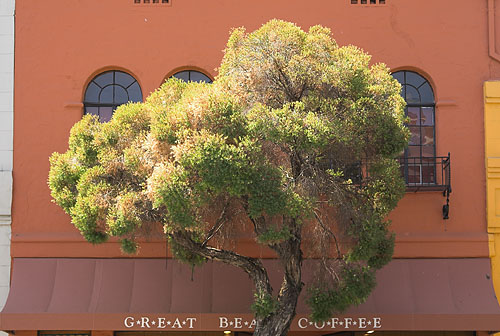 The following crops are all at 100% magnification.
Note: The 7D was used with the Konica Minolta 28-75mm f/2.8 zoom.
Maxxum 7D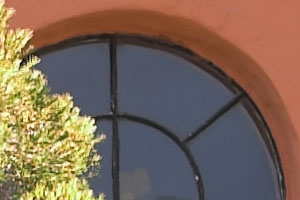 ISO 100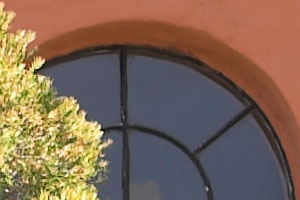 ISO 200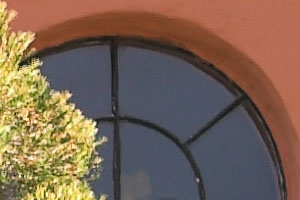 ISO 400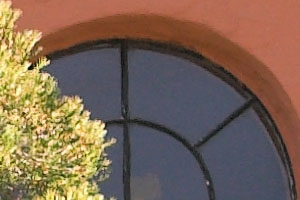 ISO 800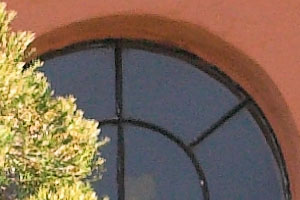 ISO 1600
The results from ISO100-400 look excellent, ISO 800 pretty good and ISO 1600 quite useable.
Note: We have the feeling that ISO 100 is about 1/3 f-stop higher than 100 and ISO 1600 about 1/3 f-stop lower than 1600.
What about the AS (Anti Shake)?
The AS sensor makes the 7D different than all the other DSLRs. It implements the anti shake at the sensor level (using a vibrating sensor) and not within the lenses (like all the other image stabilizing technologies). This has the big advantage that most of the lenses can be used in AS mode.
We did a pragmatic and not really scientific test. We shot handheld (AS should not be used on the tripod - easy to forget) with the Konica Minolta APO 200mm f/2.8 lens with and without AS enabled. Normally our rule of thumb would let us use a shutter speed of 1/200 to 1/400 sec photographing handheld a static object with this lens.
| | |
| --- | --- |
| AS off | AS on |
| 1/125 sec | 1/125 sec |
| 1/60 sec | 1/60 sec |
| 1/30 sec | 1/30 sec |
This was the first day we used the AS feature and we may need a bit more practice using AS for maximum benefit. But at the lower shutter speeds it is clear that AS works. At 1/125 sec the results are pretty close. If we have some more time we may revisit AS as part of our diary.
Note: We are very much used to IS/VR on Canon/Nikon. The main advantage of stabilizing the lens is that also the viewfinder image gets stabilized as well.
Ergonomics
The Maxxum 7D is very well to handle and the layout of all controls is some of the best we have seen so far. Konica Minolta tried to get most features into your reach without using menus.
The 2.5" LCD is bright and very easy to read.
Minor issue: We often use a bubble level that we attach to the camera's flash hot shoe. We cannot use it on the 7D as this camera has a different styled hot shoe for use with only Konica Minolta flash units.
8/30/2005 7D on Tripod
We use for all our tripod work custom plates (see our tripods, heads and plates). Here is a photo of the Really Right Stuff plate for the 7D: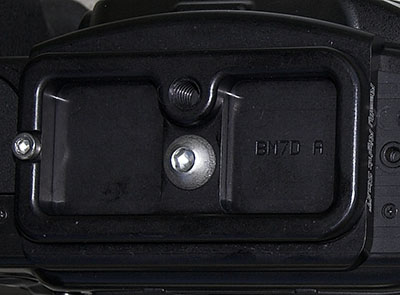 These plates do not twist and guarantee a tight fit. Tripods, heads and plates that are not tight don't do a proper job.
9/5/2005 AF D 100-300mm f/4.5-5.6 APO
This is a very inexpensive lens for this range and we don't really know yet how it performs (we check the next days). Normally with all lenses of this range we would like to see it image stabilized. No problem with the 7D because all(!, maybe nearly all) lenses are instantly stabilized by the AS sensor.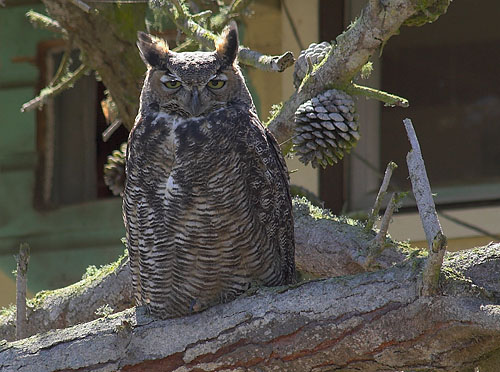 Owl at daytime @300mm (450mm angle of view, major crop 1500x1100)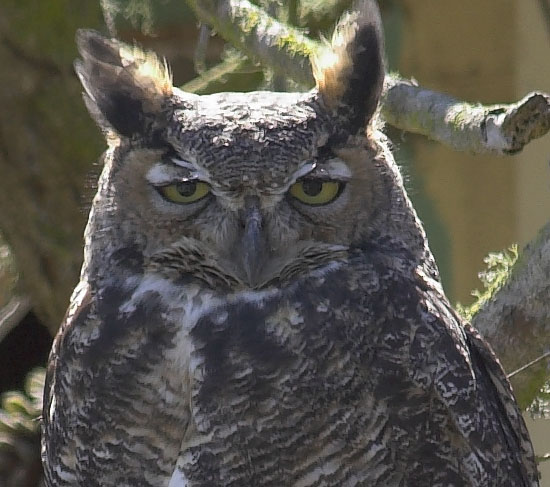 crop at 100% magnification (f9.5, 1/250sec, ISO 400)

This is a crop from a shot we got today (our first owl we ever saw and photographed in the wild). Unfortunately the sun was harsh and the owl partly in the shade. Lovely bird!
Notes:
1/250 is quite a low shutter speed for 300mm (450mm angle of view)
The ears of the owl flipped very fast (you see the blur)
9/7/2005 New Gallery and some new Photos
Yesterday in Monterey we used only the AF D 100-300mm f/4.5-5.6 APO. The 7D with this lens is a lot of fun to capture detail at some distance. Again the AS sensor helped a lot.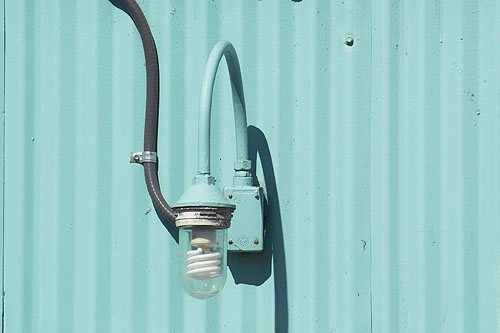 Monterey Pier Detail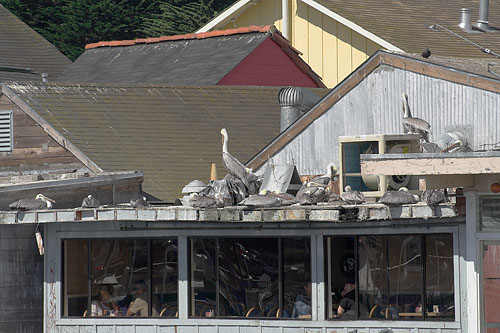 Pelican Senior Home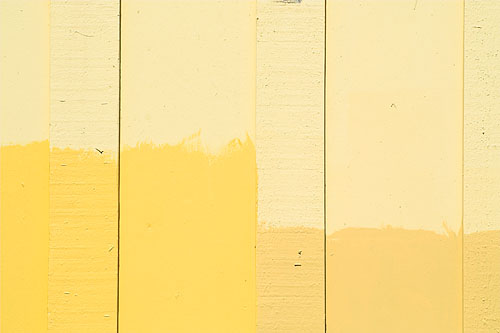 Shades of Yellow
We consider the Maxxum 7D with the AF D 100-300mm f/4.5-5.6 APO, 28-70mm f/2.5 and a Macro a great travel combo.
We also published a 7D gallery.
Conclusion
Overall we are very impressed by the Maxxum 7D. The highlights for us are:
AS sensor
Bright and large viewfinder image
First class ergonomics
We would like to see this camera equipped with a 10MP sensor.