02/25/2012 Fujifilm X10 'Orbs' Investigated (via DPReview)
Does not seem as if Fuji has a fix for these orbs. We did not experience these orbs in our photos. But this is no real surprise as we try to avoid specular highlights as much as we can.
---
12/07/2011 Fujifilm plans X10 firmware in response to 'white disc' concerns (via DPReview)
DPReview checked into an issues discussed in some Fuji forums. This is the effect of sensor blooming which is common but rarely as nasty as on the X10. We did not encouter it because we did not shoot into bright light sources. We will follow the development. Our question to the Fuji PR did not get answered.
---
11/15/2011 Our JPEG Picture Style Settings with the X10
If you use camera JPEG images the in camera Picture Style settings are crucial.
Our Picture Style settings:
Image Size: Large
Dynamic Range: 200%
Film Simulation: STD
Color: MID
Sharpness: M-SOFT (to avoid over sharpening with halos)
Highlight Tone: M-SOFT
Shadow Tone: SOFT (shows more open shadows)
Noise Reduction: LOW
These settings are made to allow the most options in your post processing. Blocked shadows and clipped highlights cannot be undone later.
---
Disclosure: This review is based on our own X10 (bought in normal retail channels) and the X10 by a great friend.
Motivation
We did not check out many P&S camera for a long time. Then with the Ricoh GXR (using the S10 module) and the Olympus XZ1 we realized how nice the image quality can be from such a camera. We started to compile a list of features we want to see in a P&S camera to work for us.
Allow to record Raw images
Good quality zoom with a useful range
Not really regretting that we did not take the bigger gear (means nice image quality). With the iPhone we got nice images in the past but it is never feels like a real camera (the quality of the results is not much predictable and of course the lens is very limiting).
Good eye level viewfinder (means EVF or rangefinder style OVF).
Fine to use
So far the Olympus XZ1 was our favorite camera in this category. Now the Fuji Finepix X10 is here to challenge it.
Fuji Finepix X10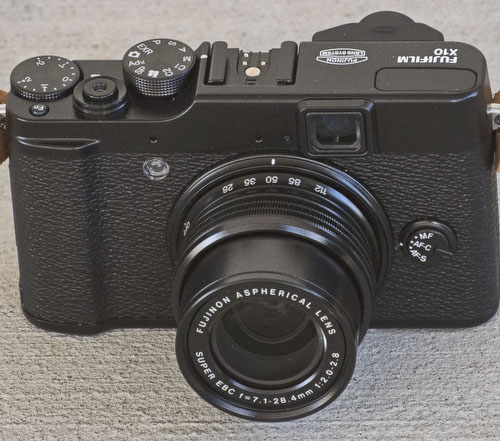 About composing with the LCD
We don't like to compose images on the LCD because of:
Instable holding position
Makes concentrating on a good framing hard
LCD in bright sunlight is always a nightmare
About Size
If we think about camera size we always also consider the lenses to carry with us. Some bodies maybe quite small but adding the right lenses makes them so much bigger. You cannot just compare the X10 to a m43 camera with a kit lens. The kit lenses are very slow and also feature only a 3x zoom range.
You may think there are quite a few cameras that would be a good choice for us. It turns out the list of candidates is pretty short (at least with brands we know reasonable well).
Canon PowerShot S95: No EVF
Canon PowerShot G12: We find the optical viewfinder of little use
Nikon Coolpix P7000: no EVF
Ricoh: GXR with S10 module
Panasonic LX5 (EVF available but not great)
Olympus XZ-1 (external EVF)
Fuji Finepix X10 (rangefinder style OVF)
The Fuji Finepix X10 is a different kind of camera because it does not have an EVF but a rangefinder style OVF.
X10 OVF
The X10 features an optical viewfinder which is coupled with the zoom. We are surprised how much we like the X10 OVF. Unlike with normal rangefinder cameras we use the X10 with the cameras auto focus system (quite fast with the X10). How about compared to an EVF (e.g. Olympus XZ1 or NEX-5N).
EVF:
Precise focusing
No parallax
All info displayed in the EVF (which unfortunately also adds clutter)
Very noisy at low light
No EVF is as clear as an OVF
Refresh rate makes sometimes following objects hard
X10 OVF:
Clear view (features a diopter)
Not large but works for us
No refresh rate issues
OVF does not need to be switched on (either manual or automatic)
shows only 85% of the real content
At wider angles the lens is seen in the viewfinder
No info displayed (some info maybe helpful: focus confirmation, ISO and shutter speed). Normally we hear the beep of the focus confirmation and also see the green light a bit.
What we like
Compact (kind of, we do not like too small cameras)
Very good and fast zoom with manual zoom ring. This zoom ring makes a world of difference because it is much more precise than all these motorized zooms.
Zoom range is excellent (28-112mm 35mm equivalent, we like that range)
Zoom has optical image stabilization
Usable macro and close up mode
12MP is a good resolution for a small sensor camera
User interface work fine for us (more below)
LCD fine
The OVF needs more discussion (see above)
Solid build quality (at least it feels like it)
Nice handling for such a small camera
Very fast AEB (we mostly use auto exposure bracketing at 3 shots and 1 EV steps)
After working with the X10 a bit we like to use the OVF and live with the 85% view.
Could be improved
No lens hood. Has to be small to not further obscure the OVF.
Hardly any compression fro Raw file (about 20MB for a 12MP image is too much)
If we shoot with AEB a 3 shot bracket Raw + JPEG the camera has to clear the buffer to the card before it is reactive again. Does not take that long but still annoying.
The RAW button could have been used as a nice programmable button. We would like to use it as an ISO button.
Histogram in preview should show all the different RGB channels
No lens hood in the box. Needs to be optimized to not obscure the OVF view even more (kind of a tricky balance)
Handling
We like the handling of the X10.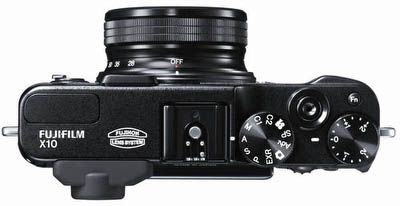 X10 from the top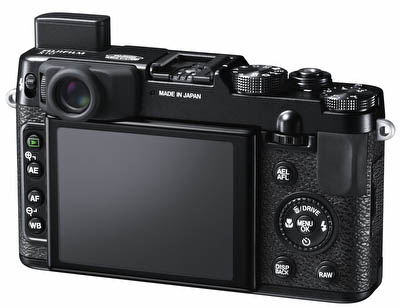 Back view
We mostly use aperture priority (A-mode) with all our cameras. With the back sub dial we can change the aperture (F/4 is a good default choice). On top there is a mechanical dial to switch EV compensation. We like this simple and direct access to the EV correction.
ISO could be on the Fn function button but we use Auto-ISO most of the time (ISO 100-1600) and don't change ISO that often.
EXR Dynamic Range
The X10 features a unique EXR sensor (learn more about EXR sensor from here). This allows to create images with with very different properties (pictures courtesy Fuji):
1. Fine detail of 12 MP: All pixels are used at full exposure and full resolution.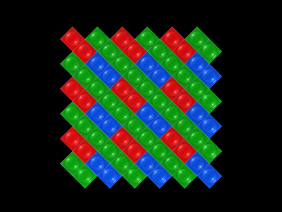 Unique pixel layout of the EXR Sensor
2. Higher dynamic range (6 MP): Here half of the rows are exposed shorter than the other half. The shorter exposed pixels deliver information for the highlights while the other pixels get the full exposure. This results in two images taken at the same time. Both images are then blended in camera or later in the Raw converter.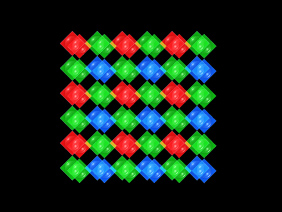 Different exposed pixels
3. Pixel binning (6 MP): Pairs of two equal colored pixels are combined and thus the noise in both pixels averaged. This lowers the noise floor.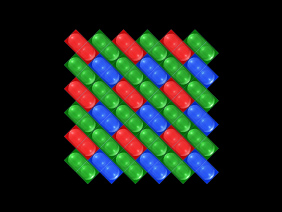 Pixel binning for low noise
There are two ways to utilize the EXR sensor:
1. Set the X10 to EXR mode and Dynamic Range to 400%
This way the camera shoots only JPEGs at about 6MP resolution. We would use the mode to maximize the dynamic range. You can also enable the low noise EXR mode.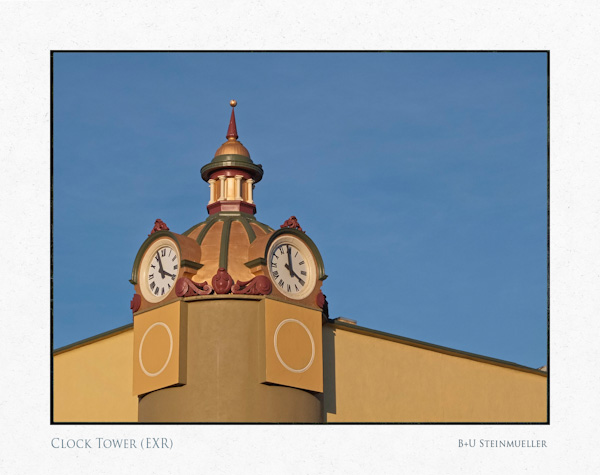 6MP EXR mode
The above image was shot at evening light with the sun hitting the tower. The X10 in EXR mode (no Raw) preserved the highlights very well.
2. Set the X10 to Dynamic Range 400% and select M (Medium) size
The camera will shoot JPEGs as well as Raws. Both the Raw and JPEG files will have 6MP resolution. The Raw files record to pixels per final image pixel (as we understand low and high exposures). Then a Raw converter can do the same processing as in camera and combine the two different exposures (low + high) to allow a higher dynamic range.
For now we use either DR100% with large images (including Raw) if the scene is not so demanding in terms of dynamic range and the EXR mode if the scene is shows a high dynamic range.
Video
The X10 features full HD 1080p video. The bit rate at about 14 Mbs is low. We need to check how to control the focusing.Also the IS seems not have an "active" mode to better stabilize handheld shot. More tests needed.

Notes on Image Quality
When we talk about the image quality here we have to consider that the X10 uses a fairly small 2/3" sensor. For this size the images are very good and this even at higher ISO values. Right now we only judge the JPEG images produced by the camera. Colors look well saturated and truthful. We plan to check the Raw files later when the X10 is supported by Lightroom 3.x (or other Raw converters we know very well).
---
In our gallery you find all the images of this field test in higher resolution and many more. All these images were processed using our standard workflow.
If you use camera JPEG images the in camera Picture Style settings are crucial.
Our Picture Style settings:
Dynamic Range: 200%
Film Simulation: STD
Color: MID
Sharpness: M-SOFT
Highlight Tone: M-SOFT
Shadow Tone: SOFT (shows more open shadows)
Noise Reduction: LOW
These settings are made to allow the most options in your post processing. Blocked shadows and clipped highlights cannot be undone later.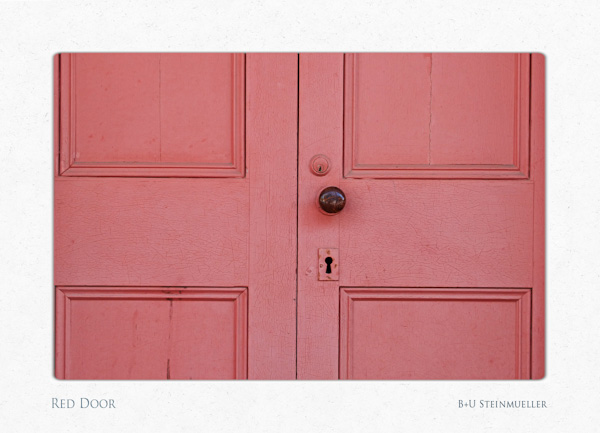 We have photographed this door many times and the X10 nailed the colors as good or better than all the other cameras.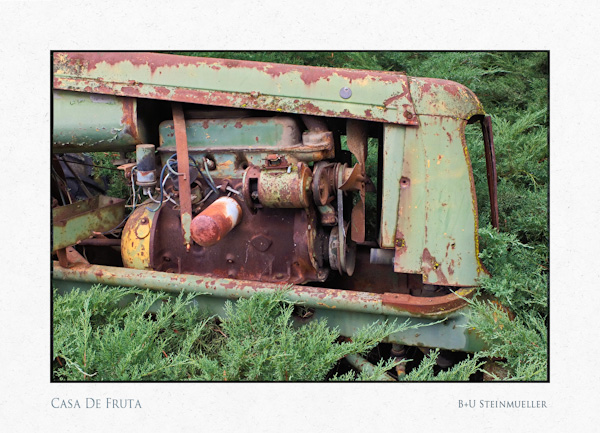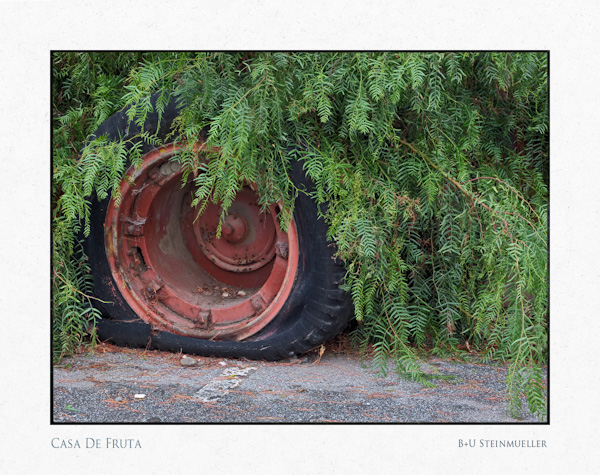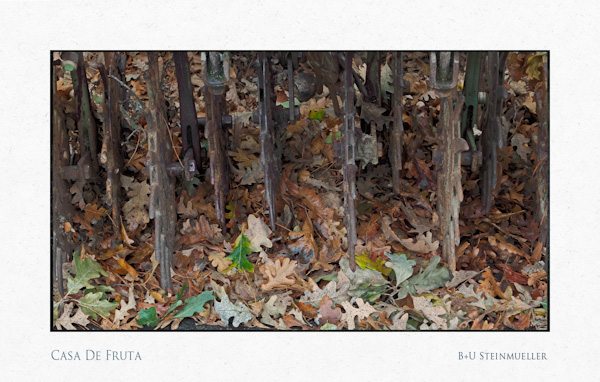 We included this photo as it shows that more DOF can also be very positive. Here we like a deeper DOF.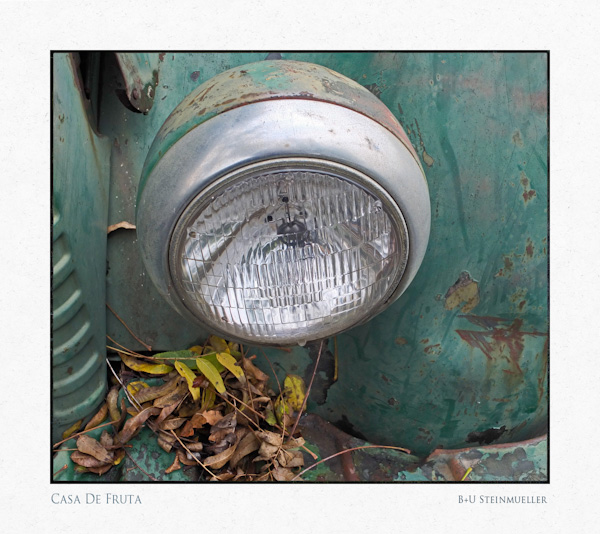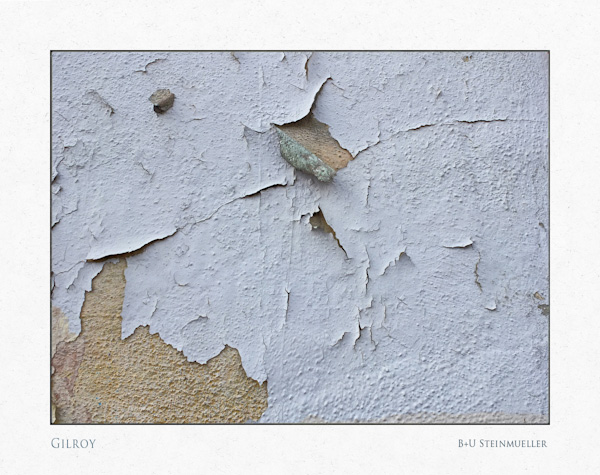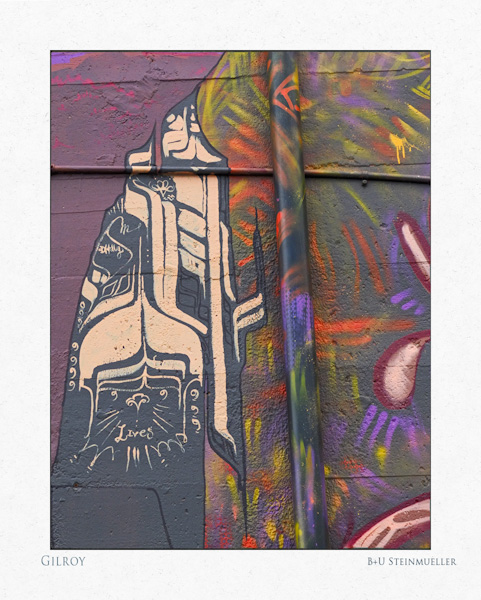 We also use the X10 to create B&W images. The conversion is done later in Photoshop and not in camera. We like to keep the choice of color or B&W open.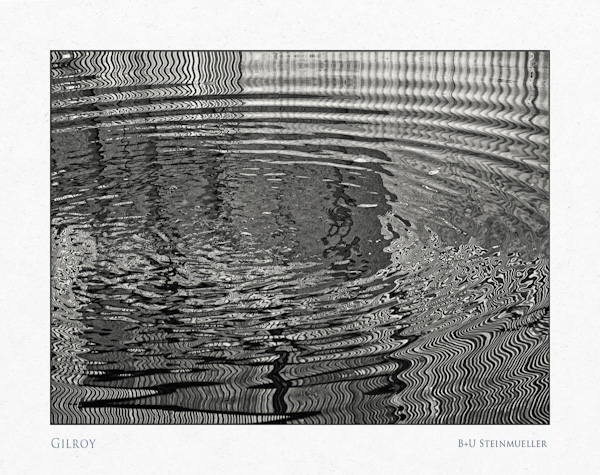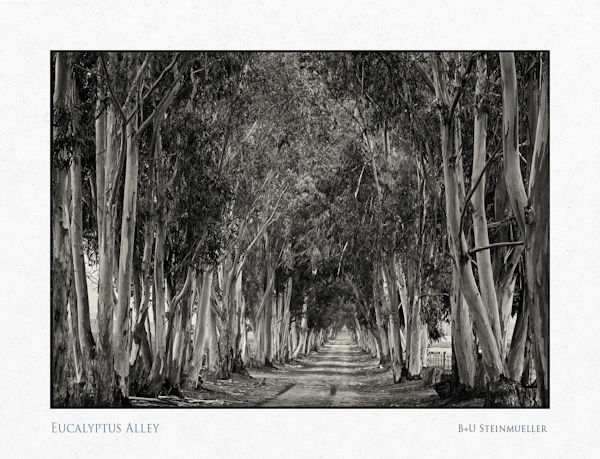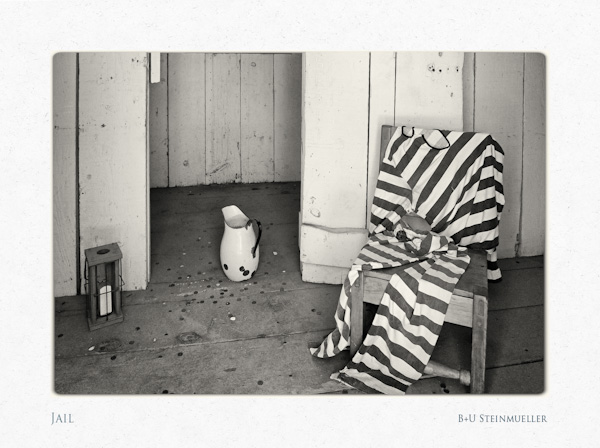 ---
Conclusion
As much as we like the Olympus XZ1 the Fuji Finepix X10 is now the camera we plan to have with us all the time. The manual zoom and the handling feels just right. To our own surprise we like to use the rangefinder style OVF a lot. Image quality is as good as you can hope from a smallish sensor in 2011. Some years ago these small sensors were not really usable at even ISO 200.
Fuji has announced that they will come up with a mirror-less interchangeable camera system in 2012. If this would based on a larger sensor with the same technology as the X10 this could be very interesting. After the success of Fuji's X100 and now the X10 Fuji seems to be back as a major camera player with unique camera designs.
We like the Fuji Finepix X10 so much that we added it to the recommended gear in our Recommended Gear List.