When we photographed the Hollister Airshow last year it was our first airshow ever. Now the Hollister Airshow is for us a fixed event (we even photographed at two practice sessions). What makes the airshow so interesting for us:
Colors
Pattern
Textures
Vintage planes
Aerobatics
Meeting people
Official Hollister Airshow Website
Weather
In Hollister you can expect sun and have to live with this light. If there is too dense overcast or too strong wind they won't be able to perform aerobatics. This means we have to to get the best out of the weather. Complaining about the light does not help :-).
Gear
Here is our core gear set: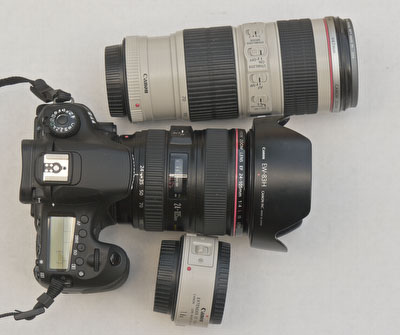 Canon EOS 60D
Canon 24-105mm f/4 IS for work on the ground mainly
Canon 70-200mm f/4 IS for closer aerobatics
Canon 1.4x tele converter for more reach. We often use the 1.4x with our Canon 70-200mm f/2.8 lens to improve the auto focus. With the f/4 zoom it becomes an effective f/5.6 and that is not ideal for AF but works if needed.
This is all featured in our

Note: With the Canon 100mm f/2.8 IS Macro lens this is our standard Canon camera set (we have the same set also for the EOS 5D Mark II minus the 1.4x). It may tell you a lot that we have two sets of the 24-105mm f/4 IS, 70-200mm f/4 IS and 100mm f/2.8 IS Macro. We don't want to be limited by what the other one (Bettina or Uwe) is using.
Other gear used:
Canon 5D Mark II (we need a second camera because we are two people)
Panasonic GH2 (but way to slow for aerobatics)
Ricoh GXR with 50mm A12 module
iPhone 4 with Hipstamatic
In the end the core gear would be ok and all we need.
What to watch for
Busy backgrounds: You have to be inventive about your framing because the background is nearly always problematic. Normally we don't like to include blue sky but here it is often your last resort.
Reflections: You cannot avoid them but try to find an angle which helps to minimize these destructive reflections as much as possible.
Think of potential B&W conversions: here off-colored or busy backgrounds sometimes work
Shooting
We shot over 1,600 exposures at this year's Hollister Airshow (some are bracketed though).
There are two principle situations:
Planes in the air (e.g. aerobatics): We use aperture priority at highest frame rate. Better to risk some underexposure than bad clipping. There is not much time to tune the the camera for optimal exposure. Camera is in AF-Servo mode.
Photos on the ground: We use high speed bracketing to select the best exposure later.
Because Bettina and Uwe work as partners we have two setups if we plan to shoot also flying planes:
Uwe: EOS 60D + 70-200mm f/2.8 IS + 1.4x
Bettina: EOS 5D Mark II + 70-200mm f/4 IS
This way we have an overall wider range of potential field of view (FOV).
We used very high shutter speeds even at lower ISO. This is good to freeze the plane motion but is also freezes the propellers too much. We need to find the optimal shutter speed and use ND filters to get the target exposure. Something to explore for next year.
Processing
As usual we work only with raw files. Images were all converted in Lightroom 3.4.1 and we follow this general workflow.
Many images are also treated with DOP Optimal Snap and sharpened with our DOP Optimal Sharp scripts (no sharpening in Lightroom). All B&W conversions were performed with Nik Software Silver Efex Pro 2.
We use quite often Content-Aware fill in Photoshop CS5 to remove disturbing image elements.
Some of our images are treated with our Texture Blending technique. Very often we tone down the blue sky.
Samples
We have in principle four types of images:
Color
B&W
Colorized B&W
iPhone 4 with Hipstamatic
Color
We mainly use color when the color is the dominating element in the image.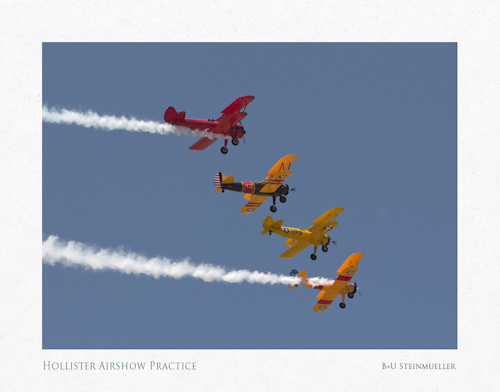 Formation

Detail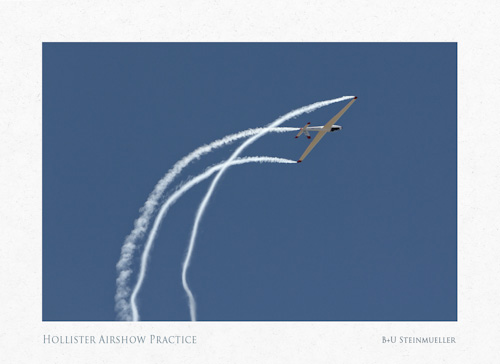 Glider Aerobatics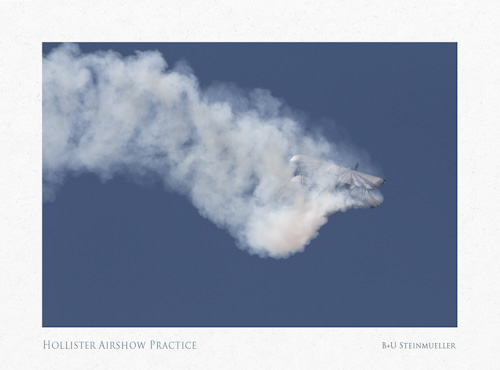 Aerobatics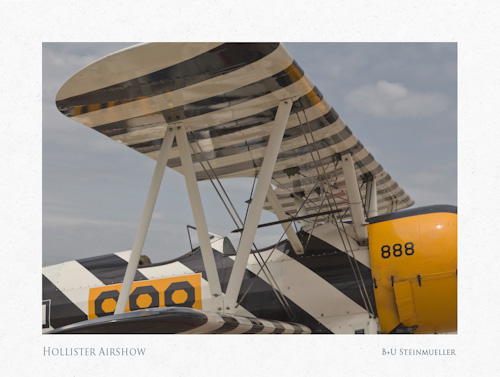 "Zebra" Stearman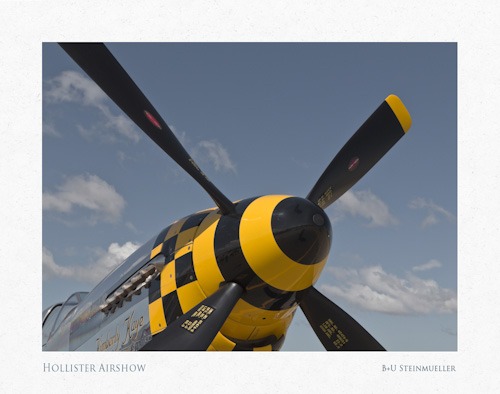 B&W
With B&W we concentrate on the structure and patterns.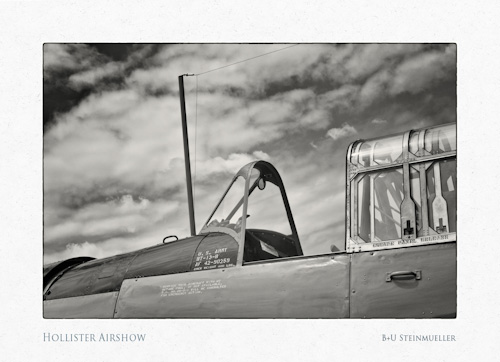 B&W Colorized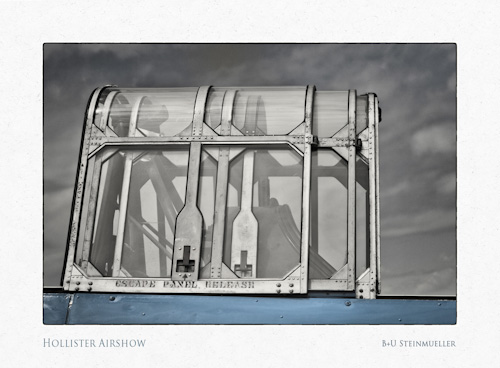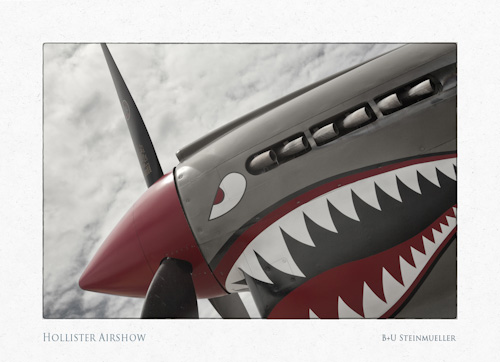 iPhone 4 with Hipstamatic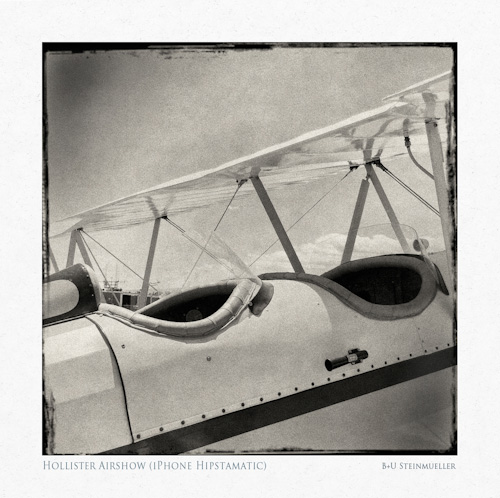 Some special processing in Photoshop CS5 applied (e.g. Texture Blending).
Many more Images can be found here (more than 200)
Conclusion
We hope this year's Hollister Airshow will be a success because we want to visit many more airshows in Hollister to come.