9/30/2009 A Morning in Oak Country
We had a great morning to photograph and film some lovely oak hills in San Benito County. We wrote a short essay here.
The 5D Mark II proved to be a very competent Combo Cam for our style of photography.
---
9/27/2009 5D Mark II sample Clips
When we first started thsi review diary we did not know much about video. Now we feel at least bit more qualified to check into this.
We decided to work also with a Canon 5D Mark II (next to our GH1)
What are missing with the GH1?
1. The GH1 is not the ultimate low light camera
2. Lens selection in WA range
Why not wait for the Canon 7D?
1. Likely the 7D won't match the ultimate ISO capabilities of the 5D. But this is only a minor point here
2. Also hard to get top WA lenses for the 7D that have a wide aperture. We own the following good/top lenses for Canon:
- Zeiss 21mm f/2.8
- 35mm f/2
- 50mm f/1.2
- 85mm f/1.8
- 24-105mm f/4 IS
- 70-200mm f/4 IS
- 100mm Macro
All these lenses would get a smaller FOV with the 7D.
Also the 5D Mark II is of course a top still camera (we own a 1Ds Mark III but are also two people).
Some of the scenes were really dark and the 5D2 performed very well (e.g. the not so expensive 85mm f/1.8)
We are not at a point where we care about the filmic look of 24p. We just shoot videos.
Workflow
- Shot at 1080p
- Down sampled to 720p
- Edit with minor corrections in FCP
Note: The moire on the roof is stronger on this down sampled to 720p version than in the original 1080p footage.
Best you download the video for better viewing (sign up for a free account).
---
1/24/2009 New Detail Shot
From now on we only use prime lenses for our detail shots. For Canon we use the 100mm f/2.8 Macro lens which is an excellent lens.
The shot is taken at ISO 100, from tripod and using mirror lockup or live view. We focus via auto focus. We talk about our standard image processing in this article.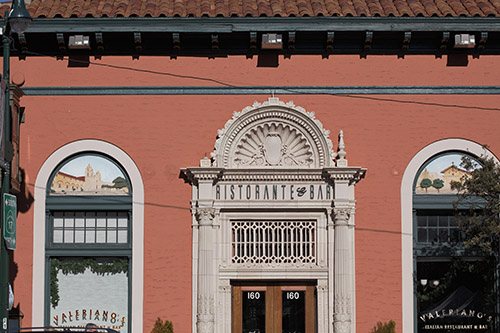 Full sized photo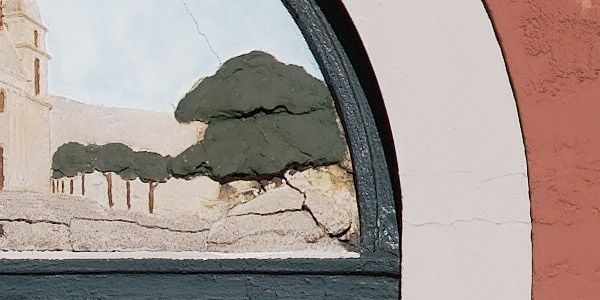 100% pixel view
You can download the original RAW file from here (about 26 MB).
Note: Remember that the service we provide is financed by selling our ebooks and PS tools. Also direct donations are welcome.
---
1/7/2009 New Firmware to fix "Black Dots"
Canon released a new firmware 1.0.7 to fix the "black dot" issues. For more info and downloads visit Canon's site.
---
12/26/2008 Black Dots
Only a few days after the EOS 5D Mark II was for sale some photographers found some odd black dots.
The black dots show mainly in night shots with many small lights (Christmas was the ideal time). We did not really try hard to get a sample. But we got lucky and one of our shots shows a few black spots (shot at daytime).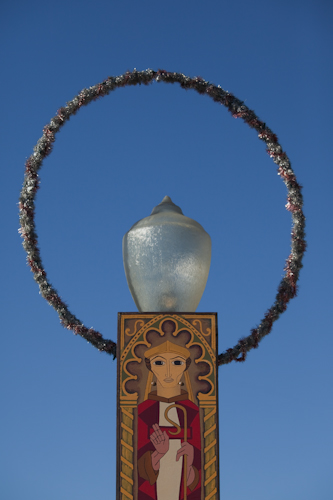 XMas Lights in San Juan Bautista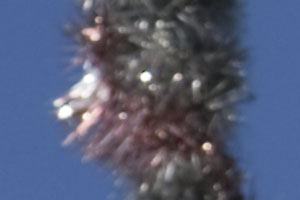 Crop at 100% pixel size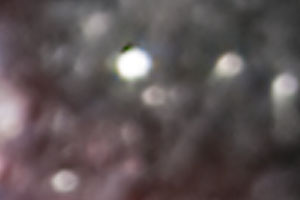 Crop at 300% pixel size
In our case it would show only on very large prints. But there have been cases reported where the black dots are visible at 100% magnification and smaller prints.
Yes, we hope Canon posts a solution soon. But on the other side for our personal work it is no show stopper to use the EOS 5D Mark II. If we would shoot more night scenes then it would be clearly more of a hassle.
Canon posted an Advisory about this problem. Right now Canon acknowledges that the problem exists but does not provide a solution. We follow this closely in the future.
There are some free Photoshop actions posted by Noel Carboni. They seem to just fix the black dots with little side effects.
---
12/26/2008 Diary Start
The Canon EOS 5D (not Mark II) was the first prosumer FF (full frame) DSLR and a very popular camera for many photographers (especially fine art). Finally the new 5D Mark II presents a compelling update.
Here are the key new features of the 5D Mark II (improvements over the 5D):
21 MP (nearly double the resolution of the 5D at 12MP)
14bit
ISO 100-6400 (extensions to 12800 and 25600 possible, also ISO 50)
Variable RAW at 5, 10, 21 MP (we won't use this)
3" display (920,000 pixels, very nice)
3.9 fps (slightly faster than the 5D but nor really fast)
Live View
Sensor Cleaning (this is in our opinion a major improvement over the 5D especially for outdoor photographers)
Full 1920x1080 HD Movie mode (for some very interesting, we will only have a look at the photographic qualities)
Missing features
Popup flash (is clearly no pro feature but really nice at times)
Los Gatos test shots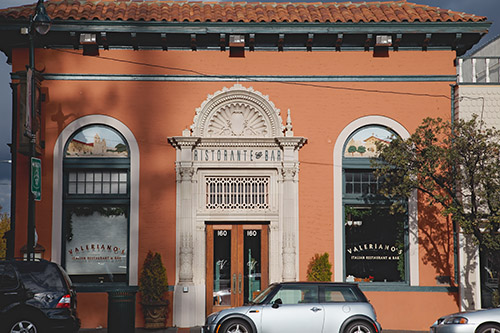 Ristorante @ISO 100 (RAW Developer)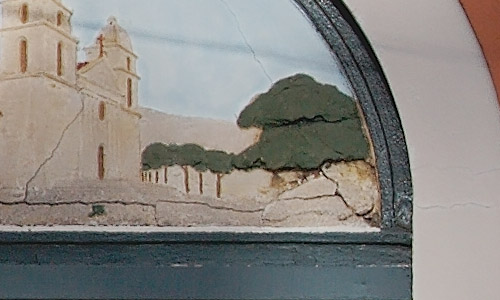 Crop @100% magnification (RAW Developer)
We used for this test the 24-105mm f/4 zoom. We have the luxury in Los Gatos (California) that we often get about the same light at 2pm. This time the light was more interesting but unfortunately different than for most of our other tests. Overall the 24-105mm zoom is not bad but it may already be limiting the image quality that you can get from the 5D Mark II).
Note: We use RAW Developer for low ISO shots because we think RAW Developer shows excellent detail and sharpness.
Missing Antique Store photos
For quite a few years we photographed as part of our test a small antique store in Los Gatos. The scene is now gone and the store is sold.
ISO Test
We converted with ACR 5.2 (luminance noise removal set to zero) and then sharpened with the same level in EasyD Plus Detail Resolver 1.0 and some low EasyS Plus settings.
Note: EasyD Plus Detail Resolver shows both more detail and more grain. This way we can see how much real detail is available.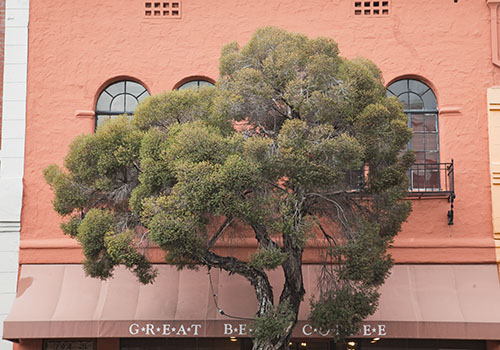 Bear Coffee Shop
Canon EOS 5D Mark II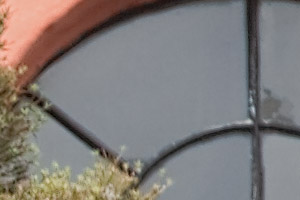 ISO 100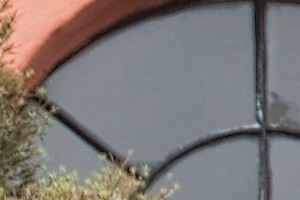 ISO 200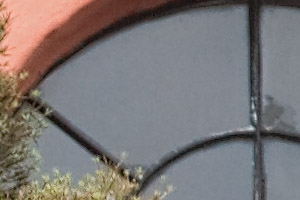 ISO 400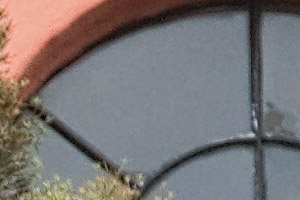 ISO 800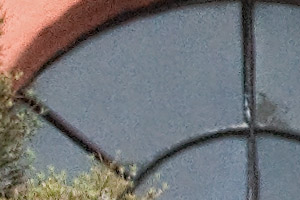 ISO 1600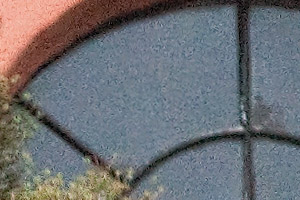 ISO 3200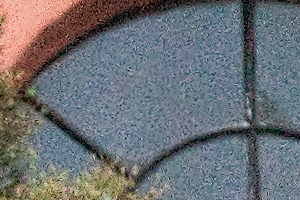 ISO 6400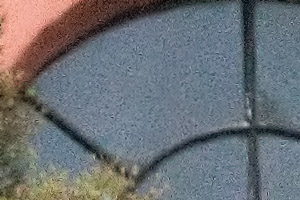 ISO 6400 (corrected with Dfine 2.0)
Note: These photos were created to show noise and not to show optimal sharpness (we did not focus on the window).
All these shots are with luminance noise removal off in camera (as much as the user can control this) and raw converter (color noise removal was at default). ISO 100-400 very smooth. ISO 800 shows minor grain. Even ISO 1600 seems usable in many cases. Above ISO 3200 the image quality falls apart.
There are two aspects about ISO noise to consider:
Can you make usable images?
Here the limit is more likely ISO 1600-3200.
Can you make use of the full resolution power of the 5D Mark II?
Over ISO 800 (maybe even 400) the grain will reduce the fine details that can be resolved. Best to stay at ISO 100 for ultimate detail quality.
**: We treated the ISO 6400 shot with noise removal in Nik Software Dfine 2.0 as a last step. Normally we would apply it earlier in the workflow chain. We offer discount codes for quite a few software products including all Nik Software plugins.
Note: These are crops at 100% pixel level. This means if the noise at 100% looks the same as from a 12MP camera (e.g. D5) the visible noise at the same print size would show less for the 21MP camera.
Note: Because we use now also the DOP EasyD Plus Detail Resolver (at moderate levels) noise actually is even more visible than in the past.
With most cameras today ISO 100-400 define our comfort zone. This means we use this range without any further thought. With the Canon EOS 5D Mark II we can use ISO 800 more often.
Note about frame rate: We hardly photograph action and still we find the high frame rate very important. Why? We shoot high speed exposure brackets freehand. Please read this article for our motivation behind high speed brackets. We find that the Canon EOS 5D Mark II at about 3.9 fps is quite slow but will work just fine most of the time.
First conclusions
Even for a 21 MP camera the high ISO noise behavior is very good
Live View is a plus
Video maybe a strong selling point too
We consider dust removal also a must have feature in 2008
LCD much improved
Black Dots can be annoying (see special entry)
Our wish list
Swivel LCD (actually essential for Live View)
Bracketing: sometimes more than 3 shots needed
Frame rate at 5 fps or faster
We think the 5D Mark II is a very compelling successor of the 5D. But 3 years ago the 5D had no competion as a FF camera at its price point. Today we can choose among 3 cameras below $3,000:
Canon 5D Mark II (at 21MP)
Sony A900 (at 24MP) (too bad that Sony does not send us the A900 for comparison)
Nikon D700 (at 12MP, remember that more resolution is only needed for extensive cropping and quite large prints)
We have used the Canon 1Ds Mark III now for over a year and are very pleased with the results. We focus much more on lenses(*) than looking for improved cameras . If we would not own the 1Ds Mark III the 5D Mark II would be our Canon camera of choice. The 5D Mark II fits very well for our style of photography (not much action).
(*) We want to use zooms because our personal style requires the flexibility to select different focal lengths. We would not mind to use 2x zooms if it could result in better optics (a good example is the Mamiya 75-150mm lens for the Mamiya 645 system).
With wide angle zooms we think Canon needs to improve (e.g. match the Nikon 14-24mm zoom),
The 24-105mm f/4 IS zooms is ok if corner sharpness is no top priority. We have to check again the 24-70mm f/2.8 zoom (although we had cases where it showed stronger CA than the 24-105mm f/4 IS).
The 70-200mm f/4 IS is our favorite short tele zoom. Image quality is good for a zoom. The lower weight and smaller size makes the handling a real pleasure
If we need top corner sharpness we use quite often the Canon 100mm Macro. If this lens would have IS without losing sharpness a dream would come true.