Canon EOS 1Ds Experience Report


A review diary by Uwe Steinmueller
Also photos by Bettina Steinmueller
Part 3
This review will be written again in the form of a diary. Most recent findings on top.
Testimonial
"If you are just now venturing into the world of fine art digital photography you can immerce yourself in new knowledge about almost every aspect that I can think of. The photographs on the Outback Photo site are stunning, to say the least! The books and handbooks offer a true wealth of knowledge because they are so well thought out and organized in a concise manner, with numerous examples. There are vast quantities of other resources available as well, through linking to other sites. There are interesting and provocative stories and essays written by both Uwe and Bettina Steinmueller and many others. I first found the site while checking reviews of the Canon Digital Rebel and I haven't stopped exploring ... where do Uwe and Bettina find the time to give so much? They are excellent teachers." Eleanor T. Culling 2/25/2004
If you work with Photoshop CS or Capture One our e-books DOP1009 or DOP2000 are the right choice for the Canon 1Ds. DOP2000 is the more complete handbook.
---
5/14/2004 Kodak SLR/c, Canon 1Ds and 1D Mark II comparison photos
We have new article that features this comparison.
---
5/8/2004 1Ds in Yosemite
We published our first comparison portfolio photo where we photographed the same scene with the 1Ds and three other cameras.
---
3/20/2004 Old resolution test revisited (sharpening makes a difference)
As an early test of the 1Ds in November 2002 we compared the 1Ds to 4x5 film and a 4x5 scanning back.
During that test we upsized a 1Ds shot to 8000x5323 pixels (means 33x22" at 240 PPI). Here is the result and an improved version: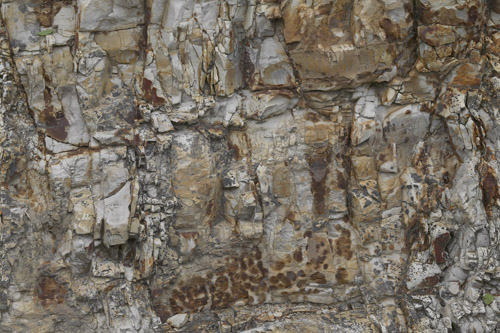 Test in November 2002 (full size)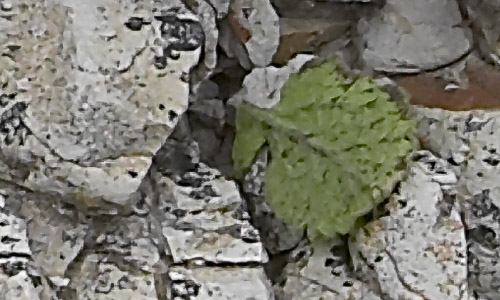 Test in November 2002 (100% magnification)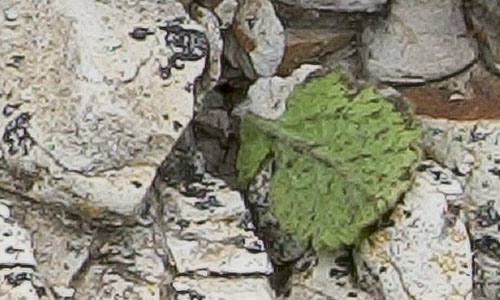 1Ds photo revisited (100% magnification)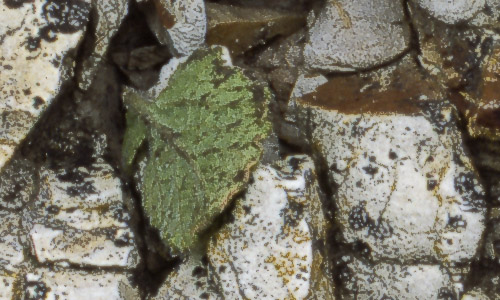 Provia F100 /Imacon scan
This time we used:
ACR 2.1 upsized to 6144x4088
upsized in PS bicubic to 8000x5323
Sharpened with Simple Sharpening at strongest level (100% opacity layer)
2nd pass with Simple Sharpening at strongest level (20% opacity layer)
Of course the 1Ds did not quite read 4x5 level but got a bit closer.
---
4/19/2003 1Ds: Hard as Rock
During our recent trip to Utah (in the Arches National Park) I was a close observer of some early morning disaster. At 6am we planned to photograph the "Delicate Arch" in early morning light and were getting our headlights from our backpacks in the car. Then we took our backpacks to start the short hike it happened: someone forgot that his backpack was still open and he dropped his 1Ds and the attached 70-200mm f/2,8 IS lens onto the concrete floor of the parking lot. I still have the shattering sound in my ears.
A fist inspection showed a major dent in the 1Ds. But some early tests made us believe that the 1Ds and the lens were ok. Unfortunately this was only partly true. While the 1Ds continued to work without any trouble, the lens showed "Error 01 (clean contacts)" without showing any major other sign of damage. The lens shows the same problem also on the 10D and is in to service (CPS, Canon Professional Services).
Note: That "Someone" was me: Uwe Steinmueller. I still feel so stupid.
---
01/13/2003 Earth Frames
Since the 25th of December 2002 we are working on a new portfolio: Earth Frames. You can explore some of our Earth Frames at www.earthframe.com. We plan an article on our Earth Frames soon. The main source for this portfolio are rock structures and details at Hwy 1.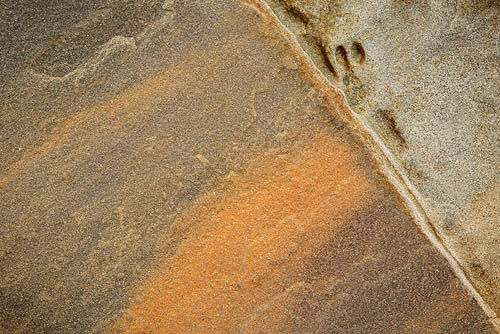 Earth Frame: Abstracts, Colors, Textures & Patterns
We are permanently looking for low tides and overcast to photograph new Earth Frames. Today especially Bettina (using the Canon 1Ds) got some really wonderful new portfolio quality shots.
---
01/07/2003 Using the Canon 50mm f/2.5 Macro lens
For our new portfolio that we call "Earth Frames" we take most photos from a distance of 0.5 - 3 feet. These photos are planned to be printed at up to 20"x30". Clearly sharpness and detail is an issue. For flowers and bugs we would use the 100mm macro lens but here the extremely and not too expensive 50mm f/2.5 macro seems to fit the bill.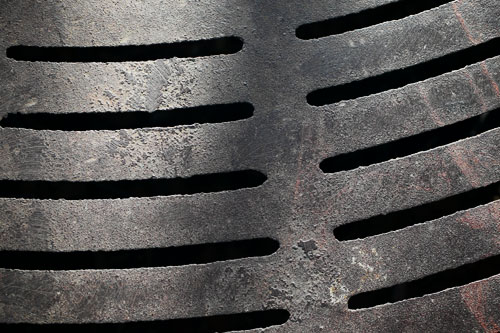 Closeup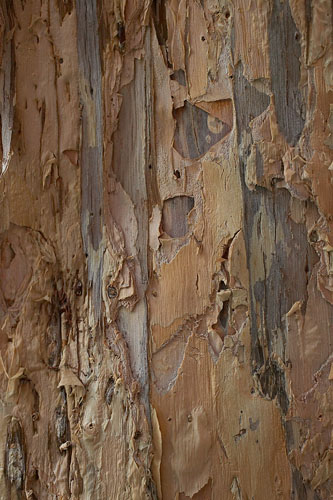 Tree bark
First initial tests show that this lens delivers what we expect. The 50mm macro might even the answer to the often asked question: "What if you only had one lens" as it also seems to be very good at infinity.
01/03/2003
On our first short photo trip in 2003 we headed for Point Lobos. The conditions were close to ideal: Minus tide and light overcast.
Much of our work in 2003 will concentrate on the concept of "Organic Abstracts". What do we mean by this? These are abstracts painted by nature and captured by us. Rock Abstracts is one subcategory.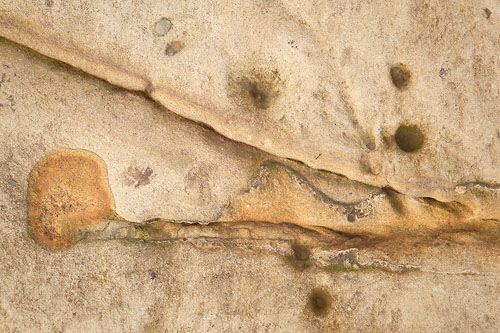 Rock Abstract at Weston Beach (Point Lobos)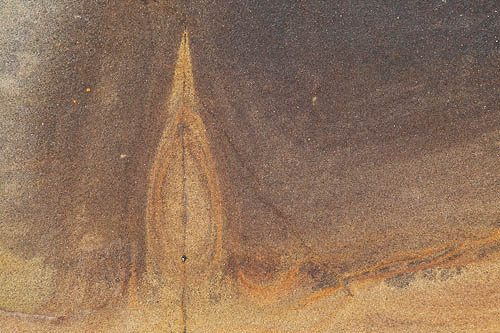 Rock Abstract at Pebble Beach (North of Santa Cruz)
Here is a link to our initial "Organic Abstracts" portfolio (more to come soon).
12/29/2002 Pelican Portraits, Living with Chromatic Aberration
Regular readers know that we love Pelicans. We have a lot of pleasure to photograph the posing Pelicans at the Santa Cruz Pier.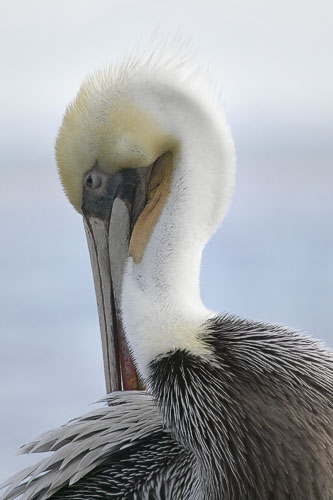 1Ds with 300mm F/4 IS + 1.4x TC
Last year we photographed these beautiful creatures with the Canon 1D and the Canon 400mm f/4 IS DO lens. The 300mm f/4 IS lens in combination with the 1.4x tele converter did also a good job (we still would like to get a 400mm f/4 DO mainly to use it also with the 1.4x and 2x tele converters).
But watch for CA
Be aware that the 1Ds reveals any chromatic aberration of your lenses or lens combination. Today we got caught once again.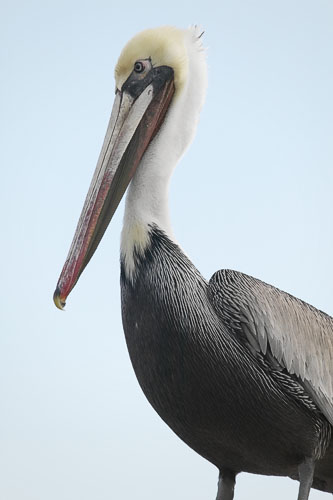 1Ds with 300mm F/4 IS + 1.4x TC (CA removed)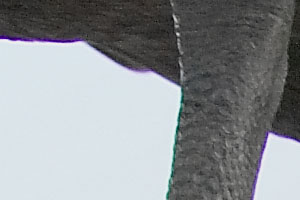 100% crop with CA artifacts

This time we removed the chromatic aberration with our standard moire removal action.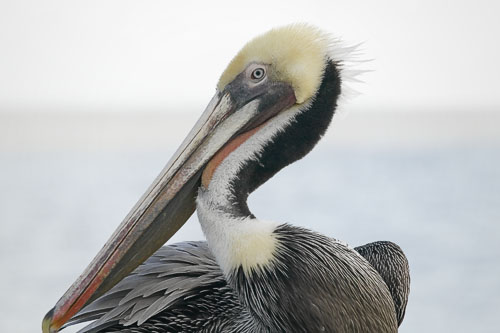 1Ds with 300mm F/4 IS
The challenge photographing Pelicans at the Santa Cruz Pier is to get a nice background. If you have the Pelican in front of the coastline then the background can be quite disturbing (especially if the f-stop is f/8 or higher). Also harsh sunlight (not really rare in California :-)) can create a very harsh contrast as these Pelicans have both white and black feathers. Fortunately we had today some overcast and the Pelicans posed nicely in front of the better background.
Thanks to the Pelicans, the weather and the excellent 1Ds we could add some new photographs to our birds portfolio. With the 1Ds (and also Capture One DSLR) we seem to get a pretty good rate of keepers.
Note: We checked and found that last year we took the photographs about 2 hours later and had less a problem with shadows, we had soft light from right behind us.
Please post all your comments and questions here in our News Group
Review methodology (or lack of :-)) here.