Canon EOS 1DS Mark II Experience Report

A review diary by Uwe Steinmueller @Digital Outback Photo
Also photos by Bettina Steinmueller
This review will be written again in the form of a diary. Most recent findings on top.
Testimonial
"I have been purchasing the E-Booklets for some time and have never been disappointed. The latest one continues to add new and helpful information. I will continue to upgrade, if not just to show my support for Uwe's fantastic site. We are all lucky to have a resource like this available to us." Brud Jones, 2/1/2004
If you work with Photoshop CS our e-books DOP1009 or DOP2000 are the right choice for the Canon 1D Mark II. DOP2000 is the more complete handbook.
Note on image processing:
As usual we work only with raw files and use a of Camera Raw for Photoshop CS early beta or Canon DPP 1.5.
All images are also sharpened using EasyS Sharpening.
---
10/10/2005
Comparing Canon 5D, 1D Mk. II (N), 1Ds Mk. II and Nikon D2x
---
5/14/2005 1DS Mk. II Details revisited
As some readers use our pictures to compare cameras we needed to update one image crop from Los Gatos: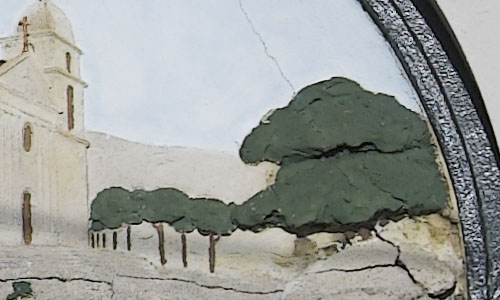 RSE and strong EasyS sharpening
Please always try use our RAW files to compare images and not the JPGs presented here. Here is tour original posting. Also the light can change the contrast and give different impressions of sharpness.
---
2/12/2005 1DS Mk. II for close-up shots
We like to photograph rock abstracts. These are not really macro photos more in the range from 1 to 9 feet. Now you can argue that these shots are best taken from a tripod. Technically this is the right way to do it. But we often prefer the work freehand as this allows us to move fast and reframe much more easily. Because we also want overcast light we have to pay a price:
need higher ISO
cannot use the f-stop we would like to get the best depth of field
cannot use the best shutter speed
We think we still get quite nice results as shown here.
Here is a photo that we took at Pebble Beach: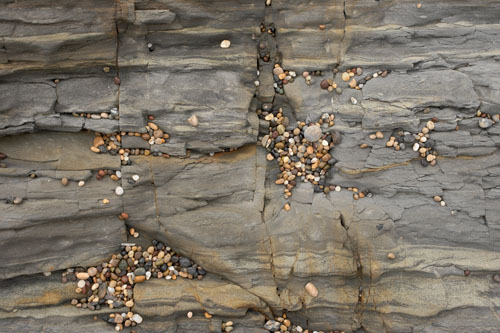 Pebble Beach
The photo was taken at ISO 250, f/9, 1/160 sec with the Canon 50mm macro lens (an excellent lens at a bargain price). No tripod was used.
This is not a shot directly out of the Raw Converter (Capture One). We enhanced the midtone contrast using our Tonality Toning Toolkit and sharpened with EasyS Sharpening Toolkit.
Later we upsized the photo to 30x20" 300PPI with the free DOP_Upsizing. Here is a crop at 8x10" 300PPI that you can download for your own inspection (2.7MB). Best you print the crop as on screen you will see the upsizing effect. Remember this is a 200% upsized view!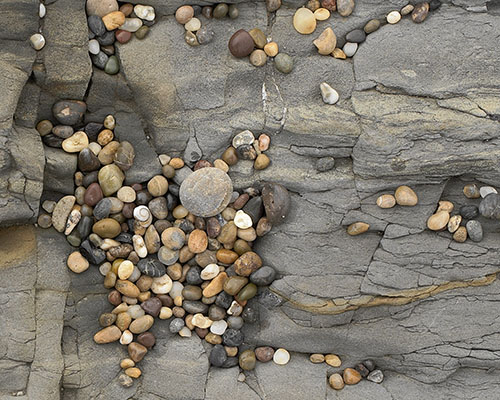 crop from the above image
There is a lot against this photo:
No tripod used
challenging DOF
1/160 second sounds fast but the 1Ds Mk. II will show all motion blur
low contrast due to overcast
Overall we think we go the shot we wanted. Still the original shot was more on the soft side.
---
1/30/2005 1DS Mk. II for Landscape photos?
Often we hear often the question whether the 1Ds Mk. II is good for landscape photos. Of course the answer depends on your standards. If you are used to 8x10" scanned film the answer maybe no. But we were happy using the older 1Ds for landscapes as we think detail is not the only criterion for a landscape shot.
But you can be the judge yourself. Here is a photo that we took this week at Big Sur: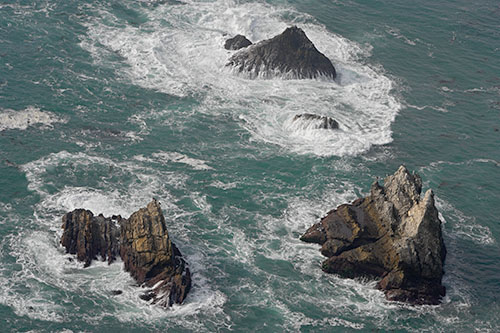 Big Sur
The photo was taken at ISO 160, f/13, 1/160 sec with the 70-200mm f/2.8 IS lens. No tripod but IS was used. The scene was pretty hazy which lowered the contrast.
This is not a shot directly out of the Raw Converter (Capture One). Because of the difficult white surf we combined two different raw exposures. We also enhanced the midtone contrast using our Tonality Toning Toolkit and sharpened with EasyS Sharpening Toolkit (sorry we use our own tools :-) ).
Later we upsized the photo to 30x20" 300PPI with the free DOP_Upsizing. Here is a crop at 7.5x10" 300PPI that you can download for your own inspection (2.3MB). Best you print the crop as on screen you will see the upsizing effect.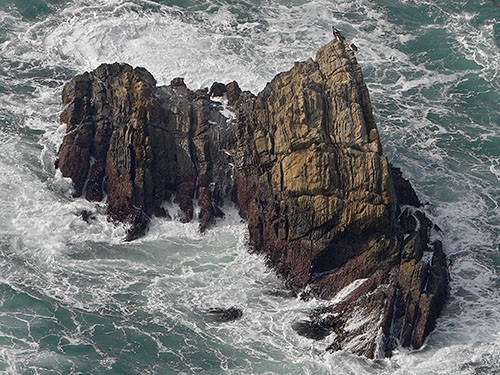 crop from the above image
There is a lot against this photo:
No tripod used
Good zoom but not as good as top primes
haze
Still we think it proves that the Canon 1Ds Mk. II is a very capable landscape camera.
---
1/28/2005 Using 4GB cards with the 1DS Mk. II
There seem to be issues with cards at 4GB (mainly Microdrives) with the 1DS Mk. II.
Our friend Jim Collum told us about this about 3 weeks ago. We contacted Canon USA and they did not receive any feedback from Japan.
Here is some more information:
Up until then we would advise you not to use this camera with 4GB cards of any brand.
We used on the 1Ds MK II 2GB Microdrives and also 2GB Lexar cards and did not have any issues so far.
---
12/17/2004 Adobe Camera Raw 2.4 public beta available
Now you have one more option towork with 1Ds Mk. II raw files: Camera Raw 2.4 beta.
We are now only waiting for the release of Capture One 3.6 for the PC (we use a non public beta right now).
---
12/11/2004 Comparing 1Ds Mk. II, 1Ds and 1D Mk. II
We are quite unique in providing real world raw images for our readers to do their own personal analysis (find the test files here). Our friend Phil Lindsay did just that. Here are his subjective findings:
"I have spent lots of time looking at your 1D2, 1DS and 1DS MkII raw ISO 100 files of the old wooden building. It is a great subject with lots of detailed chipped paint, rust and wood texture. I am currently using the PhotoKit Sharpening package. I used capture sharpening then upsized the images to 16 x 24 and finally applied output sharpening. I then repeated the experiment with another set of files upsized to 24 x 36. After examining at 100% and printing on Epson premium luster, I have made some observations:
1. 1D2 MkII does not hold up resolution wise even at 16 x 24
2. 1DS MKII was the best of the bunch
3. 1DS is a great camera
The resolution difference between the 8 MP 1D2 and 11 MP 1DS (approximately 1.4X difference) was much greater than the difference between the 11 MP 1DS and 16 MP 1DS MKII (also approximately a 1.4X difference). My 10x loupe inspection showed higher resolution (especially in the paint chips) for the 1DS MkII but the difference could not be seen by the unaided eye. In stark contrast, the 1D2 looked soft. I tried more aggressive sharpening on the 1D2 but I could not improve the resolution. I suspect the difference might have been less with the high ISO files but my focus was low ISO.
Maybe the difference is due to heavy AA filtering in the Mark II series- what ever, the tests suggest that the 1DS is a great tripod ISO 100 landscape camera."
Note by us: The results may vary slightly if you use different raw converters and different sharpening. Especially the 1D Mk. II needs a lot of highest quality sharpening. Phil thank you for your analysis. Phil did the tedious task and compared on real large sized prints which can be the only measure of ultimate image quality.
---
12/1/2004 C1 3.6 for Mac released
After DPP, Bibble 4.1 now also C1 3.6 can open 1Ds Mk. II raw files. But at this point in time only on the Mac.
---
11/30/2004 Also ISO 100 available as DNG
Some readers also wanted the ISO 100 RAW as DNG. Here you are:
available as

---
11/29/2004 Test Images also available as DNG
On popular demand the two test images (1Ds and 1Ds Mk. II @ ISO 800) are now also available as Adobe DNG raw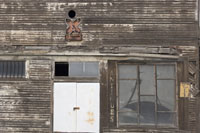 available as

With this addition you can now open the test files with:
Canon DPP 1.5
Bibble 4.1
Adobe ACR 2.3
---
11/28/2004 1Ds vs. 1Ds Mk 2
Quite a few readers interested in the Canon 1Ds Mk. II ask the question what camera to get or is the 1Ds Mk. II worth upgrading from a 1Ds. Here are the Canon candidates:
1Ds eventually second hand
1D Mk. II
1Ds Mk. II
When we reviewed the Kodak SLR/c we compared the 1Ds and the 1D Mk. II here.
Clearly the 1Ds was better in resolution than the 1D Mk. II but was quite behind in noise at higher ISO values. This time we used again the same scene and one of Canon's best lenses: 135mm f/2.0.
Because we again provide the original raw files we show only the results at ISO 800 which we find the most interesting.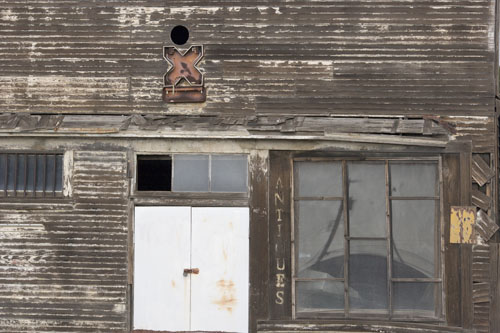 Old Grocery in Alviso
If you look at the 1Ds Mk. II files then they have about 50% more pixels and that translates into about 21% more pixels per dimension. That is why we crop the 1Ds at 500x300 and the 1Ds Mk. II at 660x366 pixels to show about the same content.
The images were converted with ACR (beta version, no sharpening, Color Noise to 11) and sharpened at the same levels with EasyS. Both were slightly underexposed (we try to avoid blown highlights at any cost) which means the results show worse than ISO 800 actually is.
Detail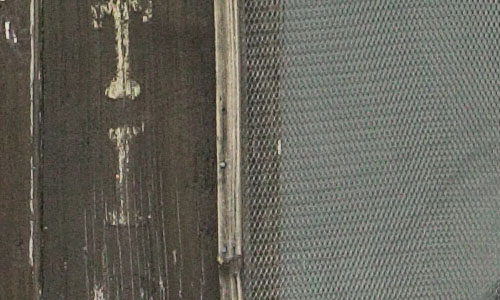 1Ds @ ISO 800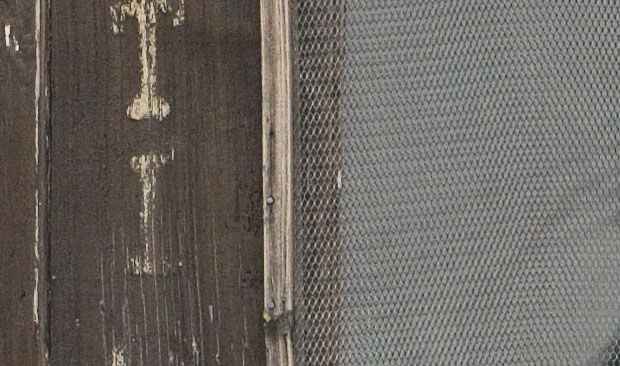 1Ds Mk. II @ ISO 800
Yes, there is more detail from the Mk. II but the 1Ds is a very good camera.
Noise @ISO 800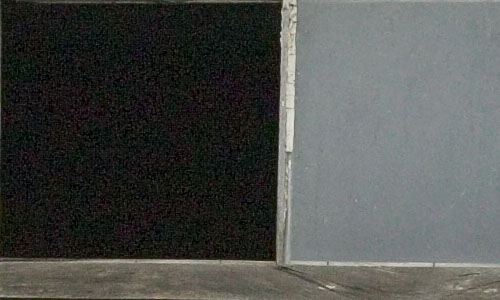 1Ds @ ISO 800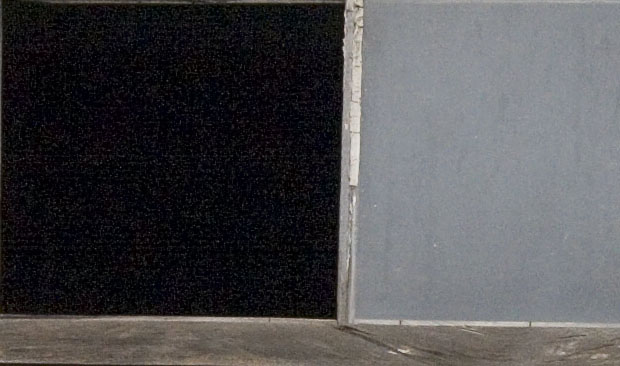 1Ds Mk. II @ ISO 800
Here the 1Ds Mk. II is a clear winner. Although in this test the 1Ds showed a really good ISO 800 performance.
We provide our readers again with the original raw files (for your own personal inspection only, they are our copyright and may not be published without our written permission). We also added the ISO100 and ISO400 original files.
With our first comparison (1Ds and 1D Mk. II) you have now quite a few raw files to compare and make up your own mind. If you need a raw converter you can download DPP 1.5.
---
11/25/2004 New Canon DPP 1.5, EVU 1.2.1 and EOS Capture 1.2 available (Source Rob Galbraith)
We don't feel that DPP 1.5 is the optimal tool for our workflow. There are some improvements over DP1.0 thought that we had reviewed here. Good news is that the 300D and 10D now also supported.
---
11/24/2004 In Monterey
We now use the 1Ds Mk. II in our regular outdoor work. Today we had a trip to Monterey where we are most attracted by the commercial fishing pier.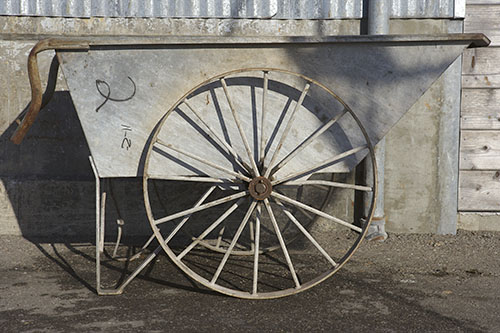 Fish Cart
For use the better noise behavior of the 1Ds Mk. II compared to the original 1Ds is the main difference and not so much the resolution (does not hurt of course :-) ). We will add the above image to our portfolio.
The above image is also part of our first PDF portfolio about Monterey.
---
11/23/2004 Histograms
On one side it is positive that the 1Ds Mk. II (like the 1D Mk. II) supports both luminance and RGB histograms. But outdoors it is "hell" to read these tiny histograms properly. Would be nice if we could get a larger LCD and also use more of the available space.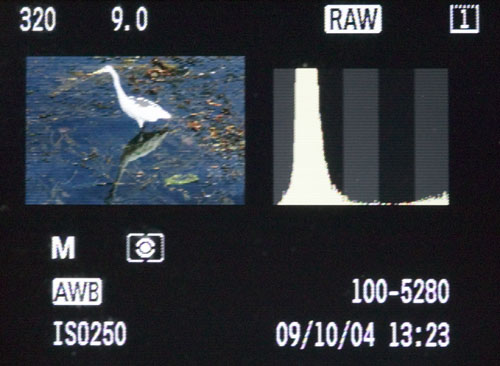 Brightness Histogram (from 1D Mk. II)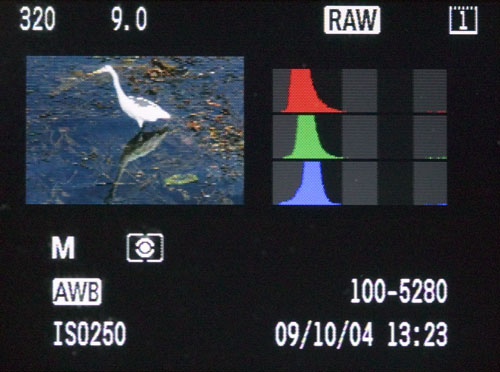 RGB Histogram (from 1D Mk. II)
Here on the screen everything looks nice and clear but:
The LCD is way smaller
Hard to watch in outdoor light without glasses

For more information please read our article "Histogram Hell".
Compared to the 1Ds the histogram is displayed very fast but that does not help to read it properly.
We will now use mainly the brightness histogram and watch the blinking overexposure indicators.
---
11/18/2004 Los Gatos Test Images
We always take our Los Gatos test images to get some first impressions about a new camera. We don't want to miss it this time.
Image processing: ACR (beta) that supports 1Ds Mk. II files and sharpened with EasyS.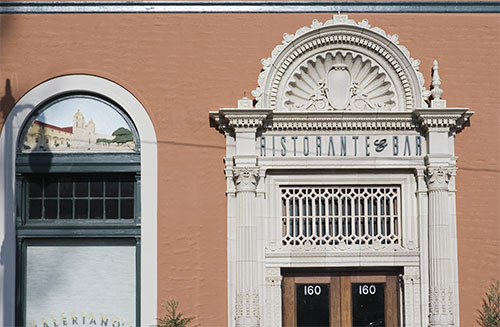 Ristorante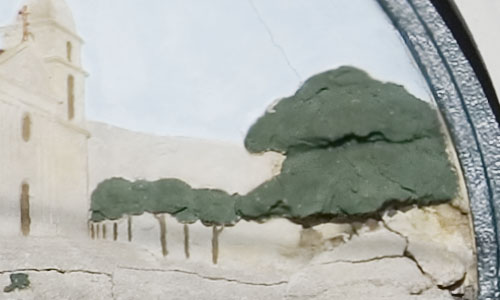 Crop at 100% magnification (original posting)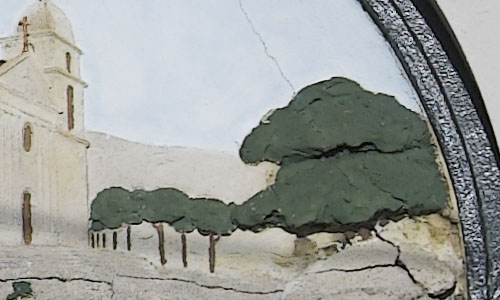 revisited with RSE and stronger EasyS sharpening
Note: We probably did not use enough sharpening for the ACR 3.0 beta version as we were more used to the sharpening levels for Capture One files.
The crops get smaller and smaller at 100% magnification as the resolution gets up. Don't get fooled: the images at 100% may look softer but they also represent a much smaller area in final prints (if printed at the same size).
Note: These photos showed also that the Canon 24-70mm f/2.8 lens shows quite a strong distortion. We thought this was related to the 1Ds Mk. II. Then we looked at our old 1Ds shots and saw the same level of distortion. The images presented here were corrected to show less lens and perspective distortions.
Note: Make sure that the file has the suffix "DNG", Some browsers get fooled and want to name it "TIFF".
available as

We provide our readers with some original raw files. But what if most of the readers don't have a raw converter that supports a new camera like the 1Ds Mk. II? We now also provide DNG (Adobe Digital Negative File). This way owners of Camera Raw 2.3 (which cannot open the native raw files) can now open DNG files that we converted from the original Canon CR2 files. We will use the DNG logo if we provide certain files in DNG.
Note: Currently you can only open DNG files in ACR 2.3 or newer.
You can find the raw and DNG files for the 1Ds Mk. II here.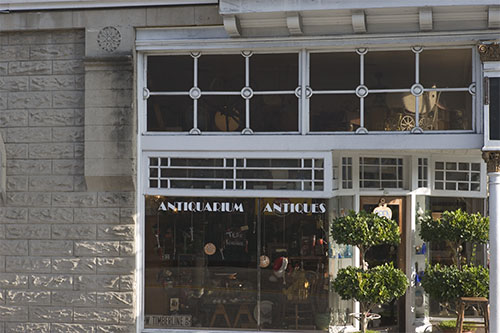 Antique Store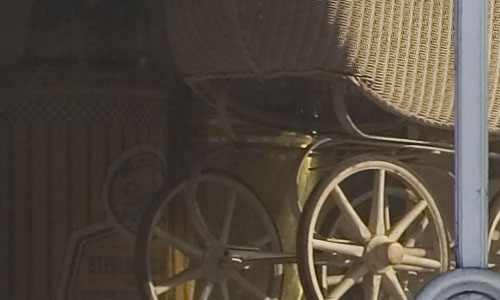 100% magnification
Nice detail even in the shadows.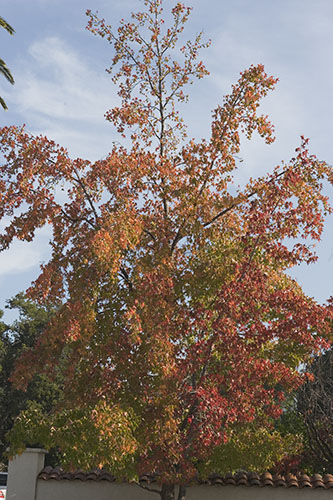 Fall Colors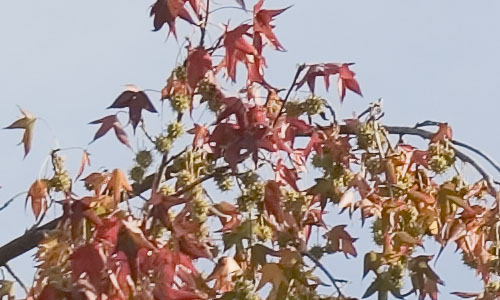 100% magnification
available as

We provide this shot as it shows lots of detail.
ISO Test 2
We did a second ISO test using our standard scene and additional ISO 1600. We converted with ACR (no noise removal) and then sharpened with the same level of EasyS.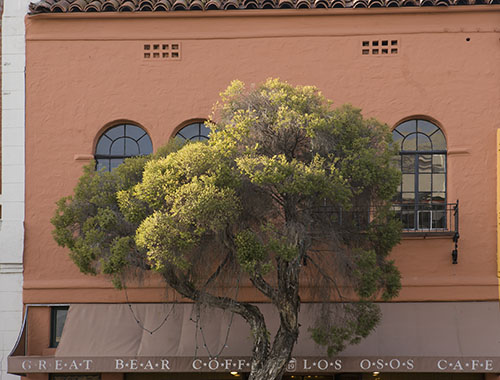 Bear Coffee Shop
Canon 1Ds Mark II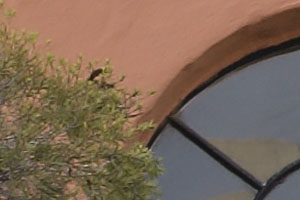 ISO 100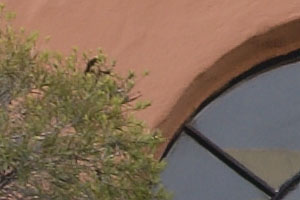 ISO 200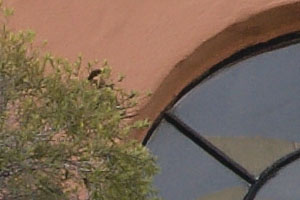 ISO 400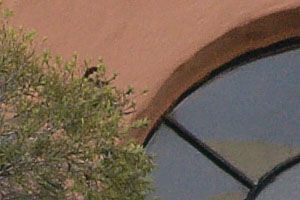 ISO 800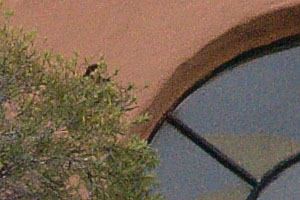 ISO 1600
Very clean files up to ISO 400. Even ISO 800 looks excellent and ISO 1600 is very useable too. This seconds the findings we had with some real world nature shots in Sedona that behaved very well at ISO 400. This excellent ISO behavior is more important to us than even the extra resolution.
---
11/17/2004 1Ds Mk. II, Lenses, Shake and DOF
At out summit we (me and some friends) did quite a few comparison shots between the "old" 1Ds and the Mk. II versions. The quality change is not always that obvious.

1. We have a tendency to judge images at 100% and here a high res image tends to look softer. But remember that the same number of pixels will cover a smaller area if print sizes are equal.

2. 1Ds and 1Ds Mk. II challenge lenses in the capability to resolve. Again this may be not that evident in smaller prints.

3. DOF issues show up stronger viewed at 100% and/or printed large

4. Shake shows up more too

5. The 1Ds Mk. II needs quite a bit of sharpening

Most impressive were some shots with the Canon 50mm Macro lens as DOF and sharpness were both good. Also remember that resolution alone never makes an image.
---
11/16/2004 Our main part of the diary will start next week
No, we won't talk just over noise. But here are the facts:
Camera handles very much like the 1D Mk. II (except of speed and larger files). This means the 1Ds Mk. II is a very well know body already (we use and own it over half a year now).
The key issues are image quality and this includes:

Noise
Detail (e.g. design of the AA filter)
Note: Officially only the DPP raw converter is supporting the 1Ds Mk. II right now (part of the camera delivery). But noise and detail can differ from raw converter to raw converter. So even more tests will not be the final verdict before we have more raw converter options.
We had the opportunity to do a first noise test. That is why we wanted to provide full sized files (raw and JPGs) to our readers for their own inspection.
Also remember that the Canon 1Ds is/was a stunning camera and will not be left in the dust by the 1Ds Mk. II. Our initial feeling is that the 1Ds Mk II provides real more detail but you need to print real big to make use of the extra resolution.
---
11/14/2004 First Canon 1Ds Mk. II Tests
We will probably get our 1Ds Mk. II test camera next week. But at our Summit we had the chance to do some test shots with a different 1Ds Mk. II.
Here is a first ISO test:
ISO Test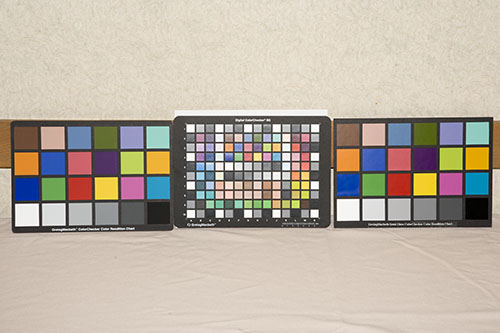 Color Checkers
The following table shows crops at different ISO levels.
Note: we used a beta version of Camera Raw and set all noise removal to zero.
Canon EOS 1Ds Mk II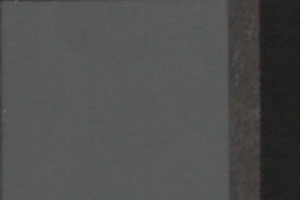 ISO 100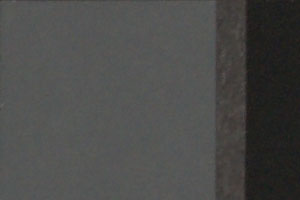 ISO 200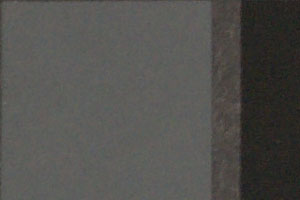 ISO 400
ISO 800
Results look excellent up the ISO 200, pretty good at ISO 400 and then not to bad at 800. We clearly need more experience here.
We try to provide our readers with raw reference files for own inspection. Here are some raw files. But we also added also some JPGs that were created with DPP 1.5 because most readers won't have a raw converter for the 1Ds MK. II right now.
You support Digital Outback Photo
if you buy the Canon EOS 1DS Mk. II at our affiliate merchants
Other Reviews
Review methodology (or lack of :-)) here.