Nikon D70 Experience Report

A review diary by Uwe Steinmueller @Digital Outback Photo
Also photos by Bettina Steinmueller
This review will be written again in the form of a diary. Most recent findings on top.
New E-Book DOP2101 with new Concept: "The Digital Workflow Sample Sessions #1"
We are pleased to announce a new companion e-book. This time we demonstrate in 10 workflow sessions how we "drive" images from their initial state to the result we like/want. Most techniques used are featured in our handbook DOP2000 (especially the fully layer based workflow). Download the table of contents and the full first chapter
from here
.
Again we need to stress the fact that our e-books are the financial foundation of this quite popular site. You sponsor Outback Photo by buying our e-books. Thanks to all those readers who already did.
Note on image processing:
As usual we work only with raw files (Nikon compressed NEFs) and use Nikon Capture 4.1 or a preview version of Camera Raw 2.2 for Photoshop CS:
"A beta version of Adobe's Camera Raw version 2.2 plug-in. Since this is a beta version, the results are still subject to change."
Most images are also sharpened using Simple Sharpening.
---
10/7/2004 Peter iNova publishes his new e-book "DSLR: Nikon D70"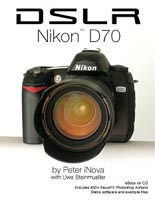 This is the first collaboration of Peter iNova and Uwe Steinmueller. The core of the book is clearly Peter's work while Uwe added some content about Photoshop Layers and RAW processing. What we always liked about Peter's e-books is that he understands to spread fun about photography in his writing. Of course we are biased but still highly recommend this new e-book to all current and future D70 owners.
you can order here an get free shipping

---
5/8/2004 D70 in Yosemite
We published our first comparison portfolio photo where we photographed the same scene with the D70 and three other cameras.
---
4/14/2004 Imaging Resource D70 Review
A new very positive review.
---
4/7/2004 Shadow Recovery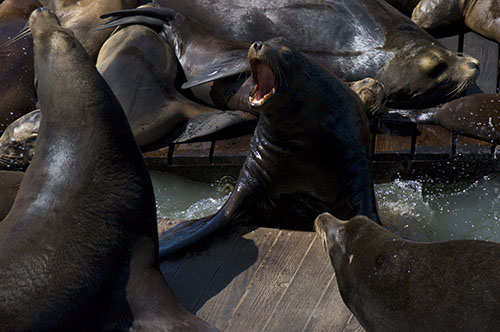 Challenging High Contrast Image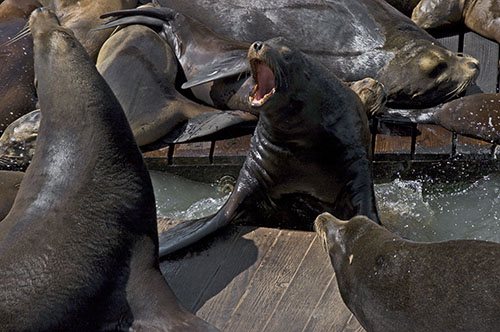 Seal Fight (improved)
Photographing in bright sunlight and even with some reflecting (wet seals) objects can be challenging. Here is what we did:
All these techniques are featured in our handbook in more detail.
---
4/6/2004 Phil Askey's Nikon D70 review is out
Phil seems to like the Nikon D70 and we really second his findings.
---
4/3/2004 In San Francisco
We used today in SF the D70 with the kit lens (also the Kodak SLR/n and Canon PowerShot Pro1).
The kit lens performed well: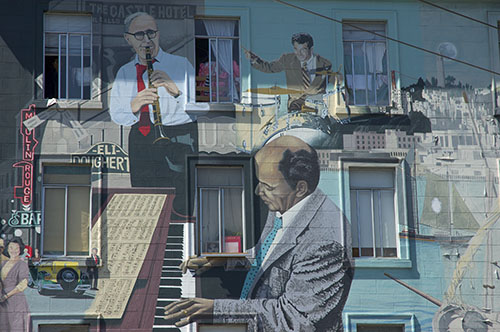 SF mural (www.billwebermuralist.com)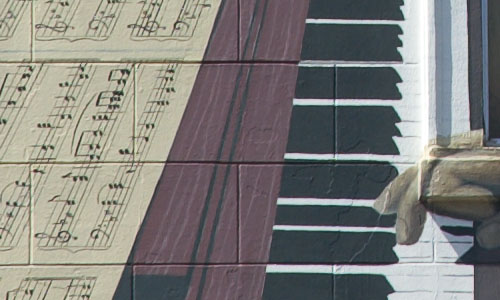 at 100% magnification
Even with the kit lens not bad.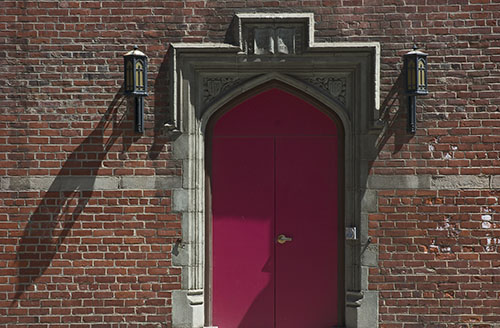 SF China Town church door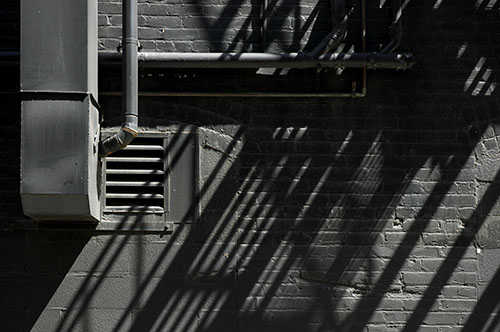 Color photo of a black wall
D70 also performed well in our black wall test.
But honestly the D70 deserves the best lenses you can afford (see below our lens comparison).
---
4/2/2004 Tripod Plates
If you are serious into photography you need a good tripod, head and also tripod plates. Read about our equipment here.
Since we standardized on the Arca Swiss quick mount we use plates from a company that only makes such plates custom built for many cameras: Really Right Stuff. They carry normally two kinds of plates:
normal plates
L-Brackets (let you mount a camera horizontal and vertical with one bracket
Right now the normal plate is not ready yet for the D70 but we got their L-Bracket: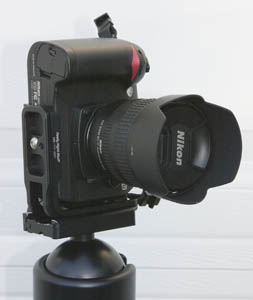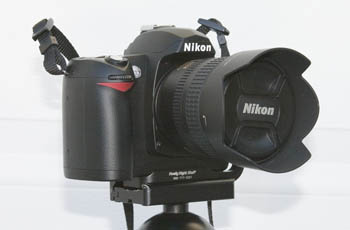 If you work from a tripod and change orientation more often an L-Bracket is a must (though not really cheap).
---
3/31/2004 Moire and Artifacts
Moire
On the net there is a hot debate about D70 moire. This is due to a low AA filter and some image processing issues. Thanks to a reader we have now a good sample to show what is going on and investigate current and future solutions: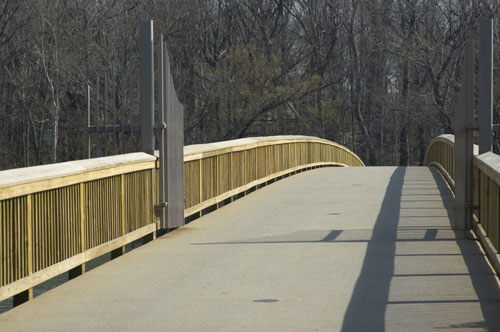 Reader photo (from raw)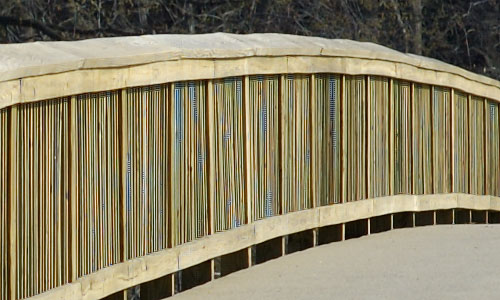 Processed in NC 4.1 (moire removal off, 100% magnification)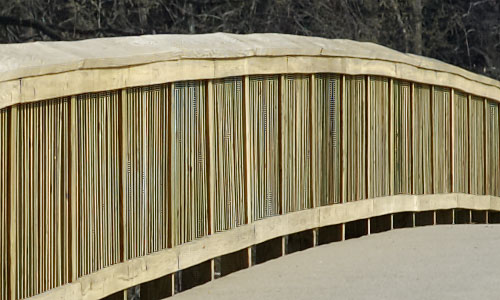 Processed in NC 4.1 (moire removal max, 100% magnification)
First it shows that NC 4.1 has a solution but the colors show a bit muted.
Here is a different version we got from Eric Hyman. Eric used a lab version of his new Bibble that should hopefully be out in the near future (we will review is then):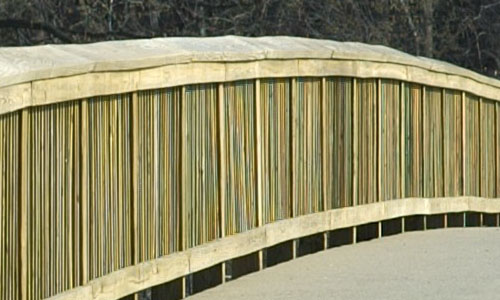 Bibble version
Eric told us that this is the result of his demosaicing algorithm and no extra filter in Bibble is needed.
Thanks again to our reader and Eric for their cooperation.
Artifacts
We got from the same reader a second image that demonstrates demosaicing artifacts: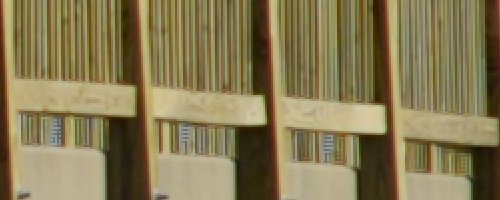 Artifact patterns created by Nikon Capture 4.1


The Bibble version does not show the same problem
---
3/30/2004
Is the "Dust Off" Feature in Nikon Capture useful?
This question is answered in our review note.
Instant Preview Histogram
We describe in our e-books that we only tune exposure using manual settings and using the histogram (how to read a histogram). The D70 histogram is instantly available after you take the photo. This can take on other cameras way longer.
Built-in Flash
Of course the built-in flash is not for serious flash photography. But is comes in handy when you need it occasionally (and this is the case for us).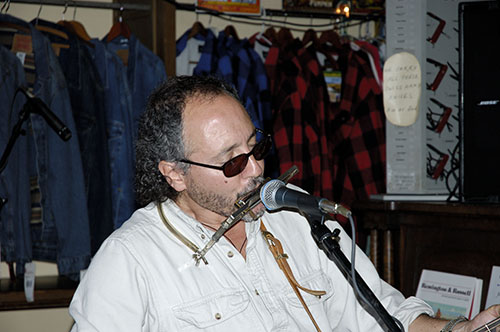 David Elias at San Gregorio General Store (built-in flash)
The flash works just fine and you also can change the flash exposure easily on the D70.
A First Summary
We own/owned the D1, D1x and D100. We think that the D70 produces most likely the best image quality so far and we liked our other Nikon DSLRs too (High percentage of our portfolio photos are from the D1x).
---
3/29/2004 New Gallery
Gallery #1 posted
We posted our first D70 gallery. Don't forget this is all about photos :-)
Moire, Aliasing
We follow the discussions on the net.
Moire and Aliasing
We have not found a sample of really bad moire. But we feel that the AA filter of the D70 is not very strong:
Plus: Sharper Images (FYI: probably all high-end digital backs work withour an AA filter)
Minus: Image processing (Bayer demosaicing) produces aliasing (stray colored pixels or even moires)
Our "Digital Photographs Workflow Handbook" describes techniques to remove minor moires. You can also find here a related technique.
Using Nikon Capture 4.1 for raw conversion
We prefer the workflow in Adobe Camera Raw (Capture One our other favorite raw converter is not right now supporting the D70) to Nikon Capture 4.1. But NC 4.1 is a very fine raw converter for Nikon NEF files and may have in some areas even an edge. We have used Nikon Capture since version 1.0 and it has very much evolved into a very powerful tool. If you work with Nikon raw files it is good idea to get Nikon Capture (actually the only released tool right now to work with D70 NEF files). It is also a good idea to have multiple raw converters as not always one converter is best for all images.
You find our NC 4.1 review here.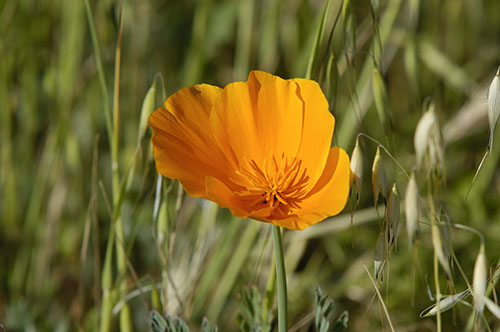 California Poppy (converted with NC 4.1)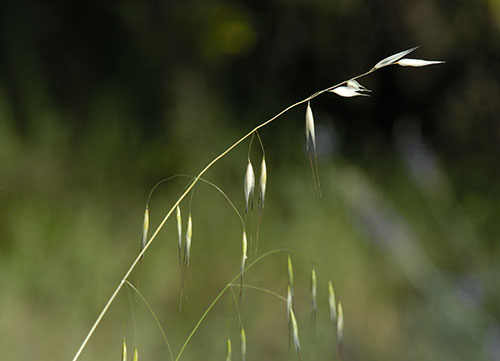 Grass (converted with NC 4.1)
---
3/28/2004 Bjorn Rorslett's D70 Review
Bjorn is a great photographer and his reviews are always worth reading.
---
3/27/2004 Lenses make a difference
Images were both correcting in white balance using the second brightest gray. Images got the same level of sharpening.
Today we did some resolution and sharpness tests comparing the kit lens to the $1500 Nikon AF-S 28-70mm f/2.8.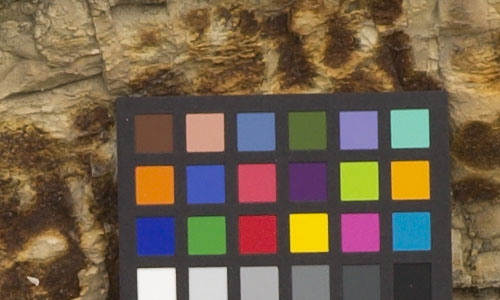 18-70mm Kit lens in center, f/8, ISO 200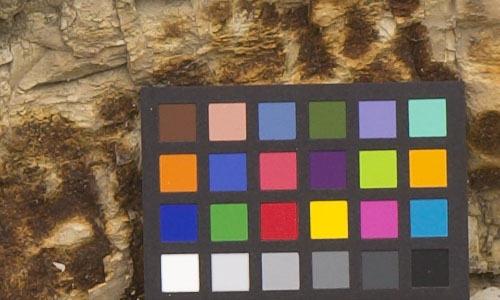 AF-S 28-70mm in center, f/8, ISO 200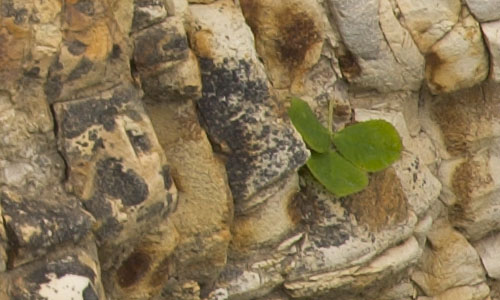 18-70mm Kit lens in corner, f/8, ISO 200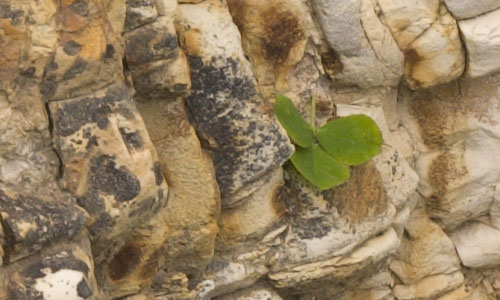 AF-S 28-70mm in corner, f/8, ISO 200
If there is no focusing error than the kit lens is way softer in the center (but also $1200 cheaper and covering a larger range). In the corners they are close the same. Looks these Nikon G lenses are really a digital design and work very well in the corners.
Conclusion:
1. Never talk about a camera being sharp or not. Always look the camera/lens combination. With the AF-S 28-70mm f/2.8 the D70 performs very well.
2. Get the best lenses you can afford.
You can download the original raw (NEF) files here (6MB each)
We also made a photo of a ColorChecker at ISO 400: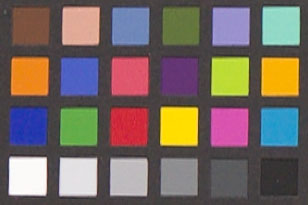 Again excellent low noise at ISO 400.
Some may remember the old rule: "If you are on a budget, get a cheap body and the best lenses you can afford." If you want to work in the Nikon system the D70 may be your ticket.
---
3/26/2004 Bought a Nikon D70
We are used that we don't get any new digital SLRs from Nikon reasonable early for review (the D1, D1x and D100 reviewed were all our own cameras). Why did we buy the D70? Because we believe that this is an important entry level DSLR and a valid competitor to Canon's 300D (Digital Rebel).
In principle we consider the D70 a variant of the D100 (read our review) with:
some features stripped
same sensor
newer image processing
improved flash
Much faster write time for compressed NEFs (the only and space saving raw option)
Zero delay startup time (inherited from the D2h). Switch camera on and photograph.
We bought the kit version that includes:
D70 Body
Nikon DX AF-S 18-70 f/3.5-f/4.5 G , only for Nikon digital cameras, comes with lenshood (bravo!)
The D70 has the usual Nikon multiplier of 1.5 and that means the kit lens is equivalent to a 27-105mm 35mm lens. This is a great range in our opinion.
First Pictures
Today we did only our usual walk in Los Gatos: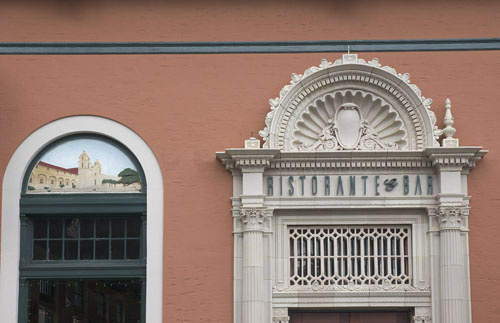 Ristorante in Los Gatos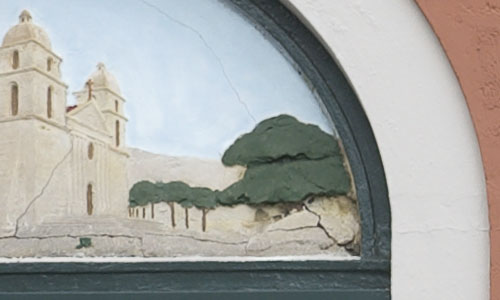 Crop at 100% magnification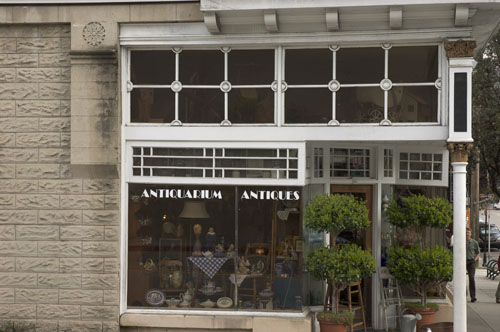 Antique store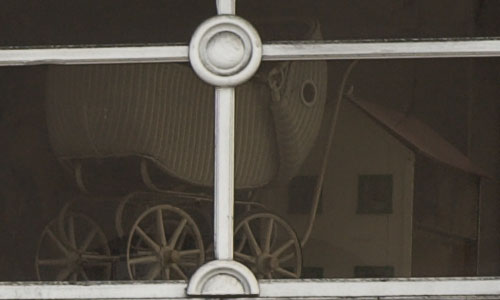 Crop at 100% magnification
These first photos taken with the kit lens show:
Very good colors
Detail expected at 6MP
Low noise at ISO 200
Nice lens
Actually as we shot the D100 for a long time 18 months ago we felt at home with the D70 in no time. No problems to report so far. Camera has a very solid feeling and holds very well in our smaller hands.
Noise compared to the Canon 300D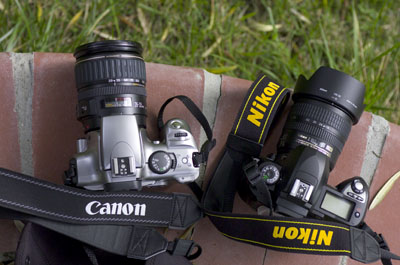 The D70 is clearly the (6 months later) answer to the Canon 300D. The Canon 300D is a simple but functional SLR body with excellent image quality. We like the body of the D70 better but both cameras do their job.
What about noise? We used a preview version of ACR 2.2 with no noise removal at all. We shot once again the Los Gatos Bear Cafe at different ISO levels: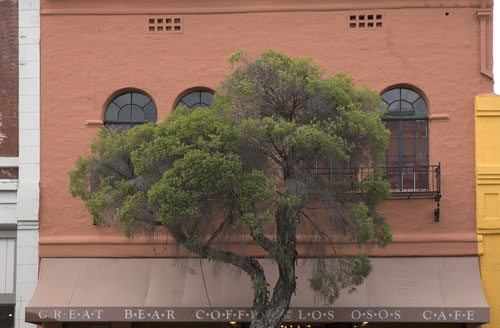 The following crops are all at 100% magnification.
Note: The D70 was used with the kit lens and the 300D with the 28-135 IS (not the best Canon lens). Next time I will use the 100/105 macro lenses. This test is about noise and not sharpness!
| | |
| --- | --- |
| Nikon D70 | Canon D300D |
| | |
| N/A | ISO 100 |
| ISO 200 | ISO 200 |
| ISO 400 | ISO 400 |
| ISO 800 | ISO 800 |
| ISO 1600 | ISO 1600 |
The ISO up to 800 looks really good for the D70 and may be even lower than the 300D. Don't take this as the ultimate noise test as there are many different kinds of noise. Our test does not show how the noise will show up in deep shadows.
The color noise from the 300 could have been reduced in ACR. The D70 are processed slightly darker which gives the impression of more contrast and sharpness.

Note: The noise in the 300D shows slightly higher because the shots were a bit underexposed. The cameras are very close to eachother.
We think the D70 is in for a good start.
---
Other Reviews
Review methodology (or lack of :-)) here.