These days cameras are available in the stores before reviewers like us even get a sample. In cases like the new Rebel XT/350D we just go forward to buy one as we need the camera for reference anyway (we actually own the Nikon D1, D1x, D100, D70, Canon 10D, Rebel, 1D Mk. II, 1dS and 1Ds Mk. II as we never sell the cameras in time :-) ) . When we got the Rebel (300D) we wrote a little essay and think it is even more true than ever. These cameras are really good and the photographer is the main limiting factor. Yes there are better and more expensive cameras but in most cases the reason that you got a good photo is not related to the fact you used better equipment.
The Canon camera family for $700-$1500


The Canon entry level cameras as of 3/2005
As of now Canon offers 3 different models in the $700-$1500 price range:
Canon Digital Rebel 6MP (aka 300D) about $700 without lens (our review)
Canon 20D 8.3MP about $1500 without lens (our review)
Canon Digital Rebel XT 8MK (aka 350D) about $900 without lens
Clearly the 300D maybe attractive for people on a budget but otherwise it would be worth to spend $200 more for the new 350D. Not really because the XT has more megapixels but because the XT is a newer design and is also more reactive.
This leaves many photographers with the decision 20D or 350D. The key difference between these two cameras is the size and weight. The XT is a very small DSLR (only tiny bit larger than the Pentax *ist) and the 20D looks rather big compared to it.
20D
Pro
larger viewfinder image
more rugged built
better match to larger lenses

Con

higher price
bigger and more weight
350D
Pro
Lower price
way smaller and also less weight

Con

Not a good match to longer/heavy lenses (also a camera at $900 does hardly invite to buy lenses that cost over $1K)
Maybe to small for some hands
Looks well built but not like the 20D
Viewfinder with some sort of "tunnel view". We think we can live with it though
The main criteria are probably size/weight and cost. Here you have to find out what you want to do. A camera that stays always home because you find it too big is not of great help. We will probably use the XT as our travel snapshot camera. This is not meant negative at all as we think you can create very good work using the Rebel or Rebel XT.
Rebel XT and lenses
We cannot stress enough how important a good lens is. We have never found a lens that was too good but many lenses are not really that good.
Unlike Nikon, Canon has not standardized on a single multiplier for its digital cameras. This means the high end is defined by film compatible lenses for the 1D Mk. II (1.3x) and the 1Ds Mk. (1.0x). This is not a real incentive for Canon to build excellent smaller lenses at a good price for the 1.6x multiplier cameras. Yes, there are a few lenses out but we would like to see more of them.
HWe had published an overview of all the Canon lenses we own. Some of them would be a fine match with the XT:
50mm Macro (80mm equivalent on the XT)
50mm f/1.4 or f/1.8
28-135 IS (nice travel lens if you are not so much into capturing wide angle and except that this lens gets soft in the longer range)
17-40mm (medium wide angle to normal)
70-200mm f/4 not cheap but good value
10-22mm if you want to go wide (not cheap though)
check also some 3rd party lenses
What about the Rebel XT and the Nikon D70?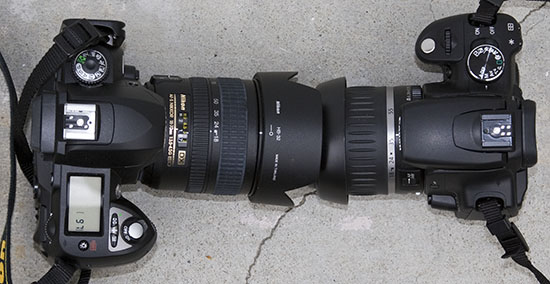 Canon Rebel XT and Nikon D70
If you look at the street prices these two cameras are not that far off eachother now. In reality the D70 (our review) compares more to the Canon 20D because it is about the same size/weight. Don't let yourself get fooled by the 6MP to 8MP difference, this should not be your main criterion for buying any of these cameras.
First impressions (random order)
We never liked the silver body of the Rebel and bought a black body XT (we know very subjective here)
We miss a second dial for aperture if we work in manual mode (90% of the time actually)
Shutter noise way lower than 20D
Instant review is as fast as 20D, D70, 1Ds Mk. II
Shutter lag no problem (we don't measure it though)
The XT features mirror lockup (Canon really listened)
Some Los Gatos test shots
Since over 5 years we only use RAW for all our cameras if feasible and the 350D work great in RAW (buffer for 5 RAW files and clears also pretty fast)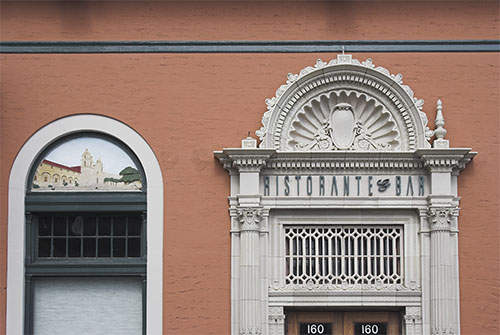 Ristorante @ISO 100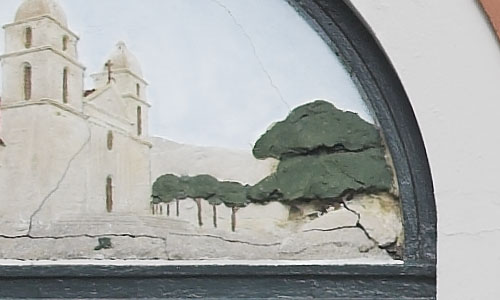 Crop @100% magnification
We used for this test the kit lens EF-S 17-55 f/3.5-5.6. Don't expect this to be a great lens at $100. It keeps the camera light, is cheap and can make a nice travel lens. The slight softness is probably more due to the lens than the camera.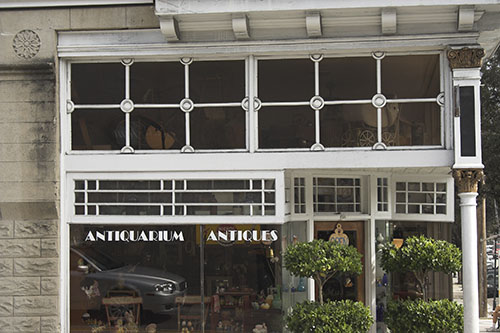 Antique store @ ISO 200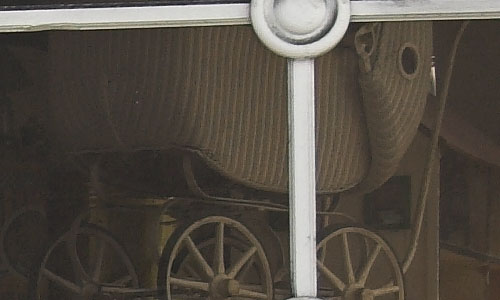 @ 100% magnification
Shadow noise at ISO 200 is very good (again we used the kit lens).
ISO Test
We converted with RawShooter 1.1.1 (noise removal to zero) and then sharpened with the same level of EasyS.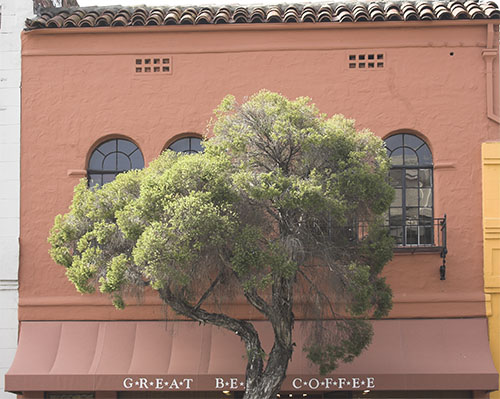 Bear Coffee Shop
Canon Rebel XT (350D)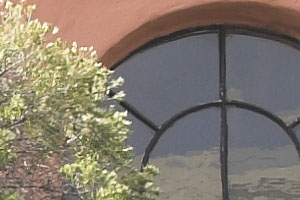 ISO 100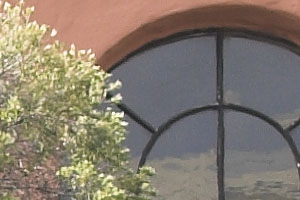 ISO 200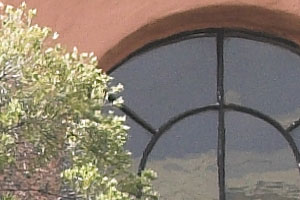 ISO 400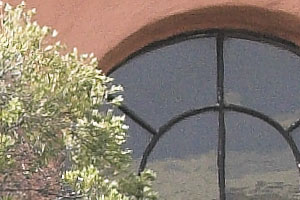 ISO 800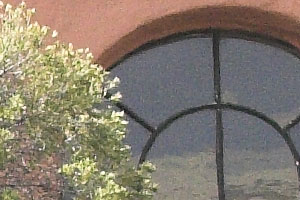 ISO 1600
Up to ISO 400 very low noise. At ISO 800 very acceptable and even ISO 1600 can create useable images.
As usual we provide raw files for your own inspection (of course you need a raw converter, Canon DPP is in the box and not yet available for download, probably RawShooter 1.1.1 will be published soon). All raw files are our copyright and may not be published without our permission.
Here are some bonus raw files not covered in this review:
Note: Remember that the service we provide is financed by selling our ebooks and PS tools.